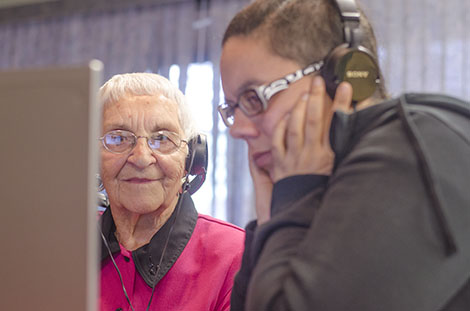 Eugenia Weiczor lived through World War II, and started her Canadian experience where many people who immigrated between 1928 and 1971 did - at the famous Pier 21 in Halifax.
Now a national museum, Canadian Museum of Immigration at Pier 21 is governed by a new national mandate, to explore immigration to Canada at all points of entry, in all periods of time in Canada's history.
The most recent project for Pier 21 is its Digital Storytelling Project.
Weiczor, 90, along with other Sault Ste. Marie immigrants, gathered at Algoma University earlier this week to compile their photographs, video, and audio recordings, to transform their history into a digital story for future generations.
Assisted by workshop facilitators Matthew Ritchie and Emmy Pantin, volunteers worked to craft their voices and share their experiences from a personal perspective, while tracing their own roots.
"I think it's important to the community, just to understand how we became a part of their own community, part of the city, and to understand a little bit better from our perspective," said Abel Aleman Chavez, a participant in the workshop who put together the story of his immigration from Mexico.
Through this initiative, the Canadian Museum of Immigration at Pier 21 has collected over 100 stories from 12 different cities across Canada.
The museum has plans to focus not only on the history, but also on understanding personal experiences.
"When you go to a museum, especially in 2014, people expect to learn about the history, but they also really want to connect with people's personal experiences," said Ritchie
"These workshops give us the opportunity and the platform to share some of those experiences."
You can expect to see more about Pier 21 during this year's Passport To Unity with a presentation about the history and story behind the museum at Sault College's Multimedia Centre at 2 p.m. on Saturday.
Passport to Unity starts Friday.
Go to http://www.saultcareercentre.ca/ptu/ to see what's happening each day.