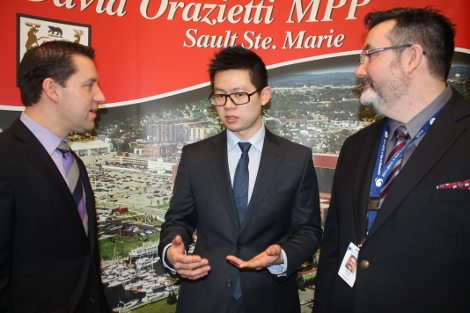 Technology and provincial funding have combined to make it easier for a group of Sault and area kidney disease patients to administer treatment for themselves at home and avoid repeated trips to hospital.
David Orazietti, Sault Ste. Marie MPP, announced $435,475 in funding for eQOL, a local company, to conduct clinical trials of technology it has developed to help patients who need peritoneal dialysis, at Sault Area Hospital (SAH) Friday.
Peritoneal dialysis patients will be able to treat themselves at home and stay connected with SAH through the use of medical equipment and an iPad, with a program designed by eQOL.
The medical equipment and iPads will be supplied by SAH.
"It (treatment and transmission of medical data to SAH) has to be done daily, usually four times a day, but the patient can do it in their home, so if you live in Wawa, you can come down (to SAH) every three months (for a checkup) instead of three times a week," said Dr. David Berry, nephrologist and medical director of the medicine program at SAH, speaking to reporters Friday.
"It makes a huge difference."
"By having this tool, it's like having their healthcare team in their own living room with them, they can ask questions, communicate with us, the software sends us information without us having to call and bother the patient, it identifies if there's a concern so we can be very proactive in dealing with a problem before we need to admit the patient to hospital," Berry said.
The technology does not currently apply to hemodialysis, the more common form of kidney disease treatment.
That may change, however.
"It (the home treatment technology) can be applied basically to any patient in the outpatient community. This can be extended to the home hemodialysis patient, the heart failure patient or lung disease patient in the home," Berry said.
The technology has been used in trials for the past nine months with patients of all ages across the district, Berry said.
"We have about 15 patients, but we are moving to expanding that to our entire home peritoneal dialysis population for the Algoma region, which is about 30 patients."
"We're continuing to expand how this technology is being used, there's the potential to expand this to those who are in need in the pre-dialysis, or kidney care clinic, which is another 200 patients," Berry said.
Patient information transmits to SAH and is encrypted and secure, to protect patient privacy.
As for using an iPad, those who are less tech-savvy need not worry.
"Younger ones typically have more expertise in using things like iPads, but older patients have adopted it with ease and we provide training for them in that regard," Berry said.
The technology, known as Dialysis Platform for Communication, Assistance and Training (DiCAT), was designed at the Sault Ste. Marie Innovation Centre (SSMIC) by Binh Nguyen, president and CEO of eQOL (an acronym for 'enhancing quality of life').
"(The funding announced Friday) will help us in a tremendous way…there are a lot of technical hurdles, healthcare has a lot of complex elements, a lot of resources to execute, so moving forward we have the solution adapted for a subset of dialysis patients, but we want to grow and make it available for other modalities of dialysis," Nguyen said.
"These functionalities can be applicable to any kind of home care, any kind of set up where the patient (or caregiver) is doing care remotely, away from their primary healthcare provider…we have very ambitious plans to expand the application of this solution as it is today."
Once clinical trials are completed, eQOL hopes to commercialize their technology.
The following is a news release from MPP Orazietti's office:
*************************
ORAZIETTI ANNOUNCES $435,475 FOR NEW HEALTHCARE INITIATIVE
Provincial Government Supporting Sault-Based Company's Clinical Studies
Sault Ste. Marie – eQOL, a Sault Ste. Marie-based company working to enhance patient independence and access to healthcare resources, is receiving funding from the provincial government, announced David Orazietti, MPP.
"With this support from our government, eQOL is able to use their innovative new technology in clinical studies – the first step towards commercializing the technology," said Orazietti. "This software will not only enhance the quality of life for dialysis patients, but will also benefit our health care system and community as it streamlines processes and alleviates strain on hospital resources."
A provincial investment of $415,000 through the Northern Ontario Heritage Fund Corporation (NOHFC) will allow eQOL to complete clinical studies utilizing their Dialysis Platform for Communication, Assistance and Training (DiCAT) product.
In addition, the NOHFC will provide eQOL with $20,475 in funding to hire an intern under the Northern Ontario Internship Program
DiCAT is a mobile technology solution for independent/home dialysis that aims to simplify and reduce the intimidation that patients experience with this self-care process.
The iPad and web-based applications will provide enhanced connectivity, access to resources, and process management, which will promote a shift from in-centre care to in-home care.
The successful completion of the clinical study and implementation of DiCAT will allow patients who live far away from healthcare centres to receive care at home without having to relocate, which will have a great impact in northern regions.
"Providing the best and most advanced patient focused health care to the community of Algoma is the driving goal of the Algoma Regional Renal Program and Sault Area Hospital," says Dr. David Berry, Nephrologist and Medical Director of the Medicine Program at Sault Area Hospital. "We are excited and proud to be working with eQOL in developing technology dedicated to that goal and making the lives of the people in our community better through improved access to health care."
Founded in 2012, eQOL is creating innovative solutions that allow individuals living with chronic conditions to care for themselves and transition out of a hospital setting.
In addition to today's funding announcement, in 2013 a provincial investment of $100,000 was provided to eQOL to assist in the developing stages of DiCAT.
"We are happy to have the opportunity to develop our company in Sault Ste. Marie and there has been tremendous support from the people and organizations in the community," said Binh Nguyen, President & CEO, eQOL Inc. "We have also received outstanding support from the Provincial government and the Northern Ontario Heritage Fund Corporation. We look forward to working in Sault Ste. Marie with its community members and building a truly great company."
QUICK FACTS
Since 2003, the provincial government through the NOHFC has invested approximately $980 million in 6,450 projects in Northern Ontario, creating or sustaining more than 24,650 jobs.

In Sault Ste. Marie, the province has invested $90 million in 781 NOHFC funded projects, creating or sustaining nearly 2,759 jobs since 2003.
Some of the key NOHFC investments in Sault Ste. Marie since 2003 include:
$5 million Agawa Canyon Tour Train

$2.5 million Heliene Solar Manufacturing Plant

$2.4 million for the Sault Ste. Marie Airport Development Corporation

$2.3 million for Algoma University Biosciences and Technology Building ($10.3 million total provincial investment)

$2.1 million Flakeboard Ltd. Expansion

$2 million Sault College - IT Infrastructure, Multi-Media Centre, Wind Energy Training Centre

$1.6 million Hub Trail & Waterfront Walkway Expansion ($3.1 million total provincial investment)

$1.5 million Northern Community Centre ($6.2 million total provincial investment)

$1.5 million for Sault College Academic Building ($9.5 million total provincial investment)

$1.5 million Huron Central Rail upgrades ($16.5 million total provincial investment)

$1 million SSM Innovation Centre and Canadian Bank Note for e-gaming initiative

$1 million Triple M Metal

$1 million Heritage Discovery Centre

$1 million Essar Centre ($4.7 million total provincial investment)

$1 million Algoma Public Health building – Technology ($9.3 million total provincial investment)

$1 million City - Emergency Response Centre (EMS) ($2.2 million total provincial investment)

$1 million SIS Manufacturing to upgrade equipment and infrastructure

$875,500 for Downtown Revitalization Plan

$785,500 Palmer Construction Group Inc.

$738,200 for Rector Machine Works infrastructure and equipment upgrades

$550,000 Group Health Centre office expansion

$475,000 Soo Foundry & Machine equipment upgrade

$202,750 China Steel equipment upgrades
LEARN MORE
*************************
(PHOTO: MPP David Orazietti, Binh Nguyen, President & CEO, eQOL Inc., and Dr. David Berry, nephrologist and medical director of the Medicine Program at Sault Area Hospital, speak following this morning's announcement. Darren Taylor/SooToday)