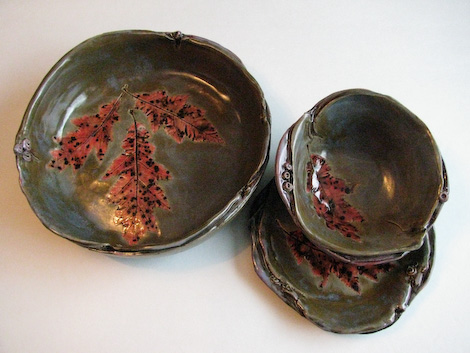 In an effort to encourage Sault consumers to support the area's increasing and creative arts scene, SooToday.com hopes our readers will consider shopping local this holiday season.
From now until Christmas, we will be showcasing the work of local artists and craftspeople with this new weekly feature.
This week's feature highlights the work of Karen Nisbet and the Hummingbird Studio.
***************************
Karen works in a variety of mediums, including clay, paint, print-making, and collage.
She currently has pottery and handmade cards at Rose's Gallery, oil monoprints at Frida Cafe and Art, and a painting in the 100 Years of Art exhibit at the Art Gallery of Algoma.
About Karen Nisbet
Karen is a retired high school art teacher who came to the Sault in 1976 from Ottawa via Queen's University.
She has practiced a wide variety of art forms over the years, and now concentrates mostly on pottery, collage and theatrical set painting.
She is also heavily involved with music, singing in the Algoma Chamber Singers and the St. Luke's Cathedral Choir.
Karen's pottery is earthenware, a lower-fired ware which allows for a wide variety of glaze colours.
The dishes are safe to use in the oven, microwave and dishwasher.
Most of the work is hand-built, but includes a little wheel-thrown work also.
For additional information and photos, visit Karen at
www.hummingbirdstudio.ca
*****************************
Revisit other Local Focal Point featured artisans
****************************
Upcoming area art and craft shows
Circle of Creative Arts: Art/Craft Show
Saturday, December 15 - 11 a.m. to 4 p.m.
648 Queen St. East

***************************