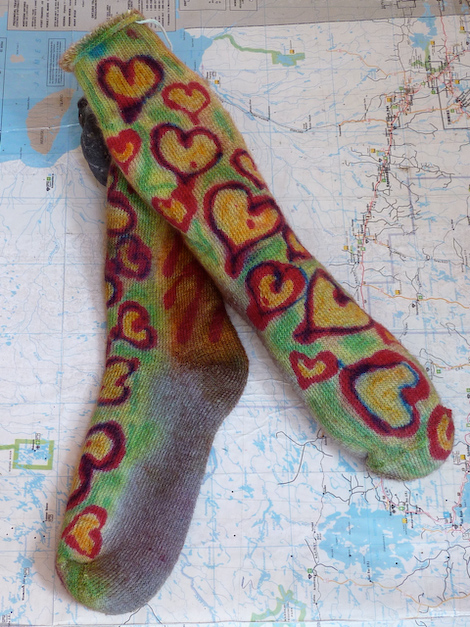 In an effort to encourage Sault consumers to support the area's increasing and creative arts scene, SooToday.com hopes our readers will consider shopping local this holiday season.


From now until Christmas, we will be showcasing the work of local artists and craftspeople with this new weekly feature.


This week's feature highlights the work of fleurdefibre and Mireille Gagnon Moes.


*****************************

Mireille Gagnon Moes creates beautiful and bright original firbre and textile pieces using a variety of techniques.
To see a gallery of her creations, please click
here
.
Her work is currently available at Moose Sweats in Richard's Landing on St. Joseph Island from now until the end of December.

Fleurdefibre can also be found at the Tippy Canoe Gallery in Bruce Mines, and the Naturally Nice Gallery located at Kent's Corners, St Joseph Island (beside Mom's Restaurant).

You can view images of Mireille's work, both old and new, on Flickr

About fleurdefibre

Inspired by her surroundings on St. Joseph Island, Mireille dyes unique colour interpretations on warm, luxurious, long lasting and easy care mohair socks.

When not dyeing mohair socks, she also enjoys creating original works combining varied techniques such as hand weaving, hand spinning, felting, spool knitting, crochet, knitting and braiding.

*****************************
Revisit other Local Focal Point featured artisans

Melissa Connors' Photography
essCreations
Lazy Voodoo
Northern Twisted Art
Washboard Bill's Wonder Emporium

*****************************
Upcoming area art and craft shows

Merrifield Public School Craft Show
Saturday, December 1 - 10 a.m. to 3 p.m.
331 Patrick St.

Algoma Art Society Christmas Art Show and Sale
Saturday, December 1 - 10 a.m. to 6 p.m.
Willowgrove United Church Hall, 55 Tilley Rd.

Handrcrafters Christmas Craft Sale
Saturday, December 1 - 10 a.m. to 3 p.m.
St. Peter's Church, 359 Douglas St.

Batchawana Bay Art Guild Art and Craft Show and Sale
Saturday, December, 1 - 11 a.m. to 4 p.m.
Bayview Pottery Studio, 554 Hwy 563, Batchawana Bay

Moose Lodge Christmas Craft Sale
Sunday, December 2 - 9 a.m. to 4 p.m.
543 Trunk Rd.

Circle of Creative Arts: Art/Craft Show
Saturday, December 15 - 11 a.m. to 4 p.m.
648 Queen St. East

***************************