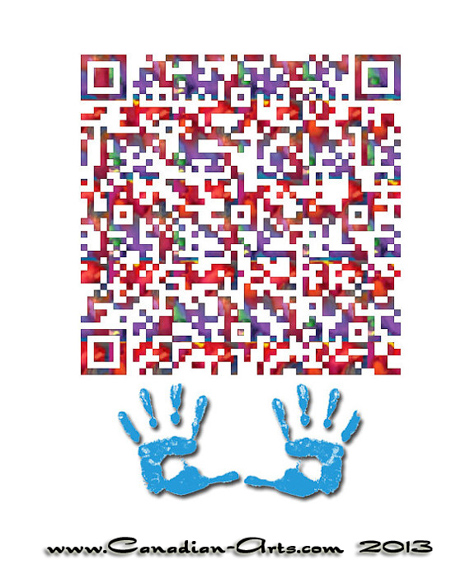 Nope. It's not too early to start your holiday shopping!

In an effort to encourage Sault consumers to support the area's increasing and creative arts scene, SooToday.com hopes our readers will consider shopping local this holiday season.

From now until Christmas, we will be showcasing the work of local artists and craftspeople with this regular feature.

This week's feature highlight's the work of Ed Warick.

***************************
Ed Warick is a graphic artist, photographer and QR code creator who loves combining technology with art.

For additional samples of Warick's work, visit his website, find him on Facebook, visit his Etsy shop, or see the photo gallery below.

He's also got a blog you're invited to read here

He can be reached via email thestooges@gmail.com, or on Twitter (@edwarick)

About Ed Warick and QR code

I have always loved creating art, from early as I can remember in public school to studying Graphic Design and Computer Technologies at Sault College.

I got back into creating art the non-traditional way, on my computer back in 2007.

I created a few images and got hooked again, loved it.

Fast forward to 2012 after seeing my first QR code I just wanted to create something that you could interact with.

I also had a lot of photos I had taken sitting on my hard drive and I wanted to do something with them.

I always loved photography and after finding Etsy, I was truly inspired to share my work with people with similar interests.

Usually art doesn't have to be explained, but not everyone knows about QR codes and what they can do.

I like to call my QR code art "Interactive Art", it can do something when you scan it!

QR code (quick response code) is one of the most popular types of two-dimensional bar-codes.

These codes are everywhere these days, on advertising materials, magazines and I recently seen one on a bunch of banana's I purchased and recently seen one in my local Tim Horton's coffee shop wall.

So I have decided to take it to the next level and create some Art with it and have some fun.

I hope you enjoy it.

Each QR code art I create is applied with simple colour composition, design and a message and is one of a kind piece of Art work.

You can download a free QR app reader for your smart phone, iPhone or tablet and simply scan the QR code Art and then the message will show up on the screen instantly or take you to a website, etc…

For Example: If you scan the Moe Howard QR code, it will take you to a YouTube video with Moe Howard of the Three Stooges slapping Curly and Larry.

The QR code Always Kiss Me Goodnight when scanned will display "Always Kiss Me Goodnight" on your screen.

The Love You QR code will display "Love You" on the screen and also the numbers 1 and 0 spell out Love You in Binary Code; this is the code that computers use to store information.

The QR Birth Announcement (pictured) will display information about my son's birth; his full name, year born, weight and his parents names.

*****************************
Upcoming area craft shows

OCTOBER

Soo Zombie Walk
Saturday, October 26
1 to 6 p.m.
Canadian Bushplane Heritage Centre

NOVEMBER

First Annual Holiday Gift and Craft Show
Saturday, November 9
11 a.m. to 3 p.m.
Canadian Bushplane Heritage Centre

Tarentorus Craft Show and Bake Sale
Saturday, November 16
10 a.m. to 3 p.m.
Tarentorus Public School, 96 Northwood

Royal Tea and Bazaar
Saturday, November 23
10 a.m. to 1 p.m.
Queen Elizabeth Public School, 139 Elizabeth Street

Moose Lodge Craft Sale
Saturday, November 30
Moose Lodge, 543 Trunk Road

DECEMBER

Moose Lodge Craft Sale
Saturday, December 14
Moose Lodge, 543 Trunk Road

***************************
If you are an area artisan and wish to be featured on SooToday.com, please follow these instructions:


Submissions must be one of a kind, handmade, locally (Algoma region) produced items. The more unique and creative, the better.


ALL submissions require:


Your name and business name

Artistic medium

A short bio and/or description of the work

Contact information (email and/or phone number) and links to your website, Facebook page, Etsy shop, etc.

6-10 images of your work (high res .jpg please)

Where your work will be/is shown (ie: craft shows, galleries, shops)


Submissions are to be sent to: donna@sootoday.com with the subject line "Algoma Artisan"

Submission deadline is: Friday, November 8, 2013

***************************
Revisit other Local Focal Point featured artisans

Warren Peterson Fine Art