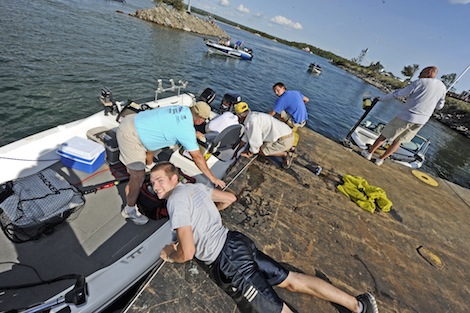 Loyal SooToday.com reader, Marnie Giuliani, sent us the following news about four area fishermen who caught more than fish at the Cabelas National Team Championship All American walleye fishing tournament held on Thursday and Friday in the St. Mary's River.

*************************
Four Canadians become "All Americans"

SAULT STE. MARIE, MI - The Cabelas National Team Championship All American saw four Sault Ontario Anglers become "All Americans" this past weekend.

Over 200 boats and 400 anglers from 18 states and one province vied for top honours in the St. Marys River.

The Masters Walleye Circuit tournament held Thursday and Friday took the top 25 NTC teams to the final day on Saturday to crown the National Champions.

Joe and John Giuliani and Norm Thorklison and Greg Rykman, from Sault Ste. Marie, Ontario finished 19th and 21st respectively on Saturday to become first-time All Americans.

Along with winning plaques and prize money these local anglers eagerly await their Championship rings.

*************************
Pictured: Lake Superior State University students Robert Barta (foreground in gray) and Nick O'Neil (in back, blue shirt) help an angler team unload their August 23 catch for weighing during the Cabela's Master Walleye Circuit held on the St. Marys River August 21-25.

The annual event drew 200 teams of at least 400 anglers who competed for more than $100,000 in cash, based on team haul in pounds of legal-limit, live walleyes.

The St. Marys is one of the Circuit's top walleye producers out of 11 venues around the country.

It attracted a record number of professional anglers this year.

Twenty students from the LSSU Fisheries and Wildlife Club volunteered with the tournament's boat handling, fish care, and fish weighing.

The Sault Visitors and Convention Bureau, which hosted the circuit stop in Sault Ste. Marie, Michigan, will make a donation this week to club for its help.

Barta is a junior from Sunfield, Michigan, and O'Neil, a senior from Brooklyn, Michigan.

Both are studying fisheries and wildlife management.

Photo by John Shibley for LSSU.