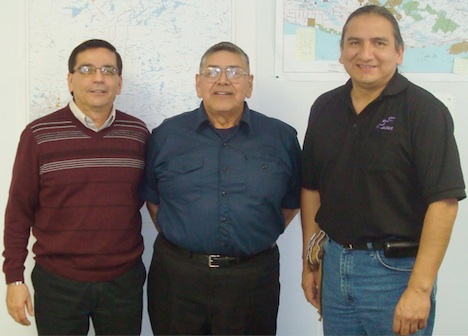 NEWS RELEASE
BATCHEWANA FIRST NATION
GARDEN RIVER FIRST NATION
THESSALON FIRST NATION
*************************
BAWATING - The principle chiefs of the Garden River, Batchewana and the Thessalon First Nations expressed disappointment over the rejection of their application to the "1812 Commemoration Fund."
Chief Lyle Sayers of Garden River, Chief Alfred Bisaillon of Thessalon and Chief Dean Sayers of Batchewana [left to right in photo] are direct descendants of war chiefs and warriors that fought in the War of 1812.
Chief Shingwaukonse (Little Pine) led 700 Warriors in defence of Ojibway homelands and to protect British interests from the Americans.
Shingwaukonse's warriors spilled much blood to save the British Colonial forces and what we know as Canada today.
According to an 1819 Indian Affairs letter, Chief Wabechchake of the Crane Clan was killed in the 1813 battle at Fort George.
Chief Wabechchake was the father of Nebenaigoching of the Batchewana First Nation.
Both Chief Shingwaukonse and Chief Nebenaigoching were signatories to the 1850 Robinson Huron Treaty.
Plans are underway to commemorate the peaceful capture of Fort Mackinaw on July 17, 2012, at Fort St. Joseph on St. Joe's Island.
Because Canada fails to recognize the importance of the Ojibways of the North Shore, we will not be taking part in any activities at the fort, stated the three chiefs.
The leadership of our First Nations governments are asking Anishnabe citizens not to participate in any events, as actors or in any spiritual ceremonies promoted by various groups.
Absence of the Ojibway Nation at commemoration events is a reminder to Canada they continue to dishonour their historical and treaty obligations and promises.
In 1812 the British called upon the Ojibway Nation for help and we responded.
We paid a hefty price wherein only a handful of our warriors and chiefs returned home.
For Canada and the 1812 Commemoration Fund to deny our application is an insult to our people and the warriors who gave their lives to protect British interest.
Once again our story will not be told and they will try to tell our story from a distorted colonial worldview.
The truth will not be told.
As 1812 Alliance Nations, we are committed to our legacy.
We will hold remembrance ceremonies to acknowledge our ancestors who made tremendous sacrifices and who maintained their alliance agreement with the British Crown.
The British agreed to an Anishnabe territory, independent republic and support for Indigenous development.
We will also educate our people and others about our legacy.
Once again we are being abandoned by our allies just as Shingwaukonse and Tecumseh were abandoned on the field of battle near the Thames River by our British allies.
***************************