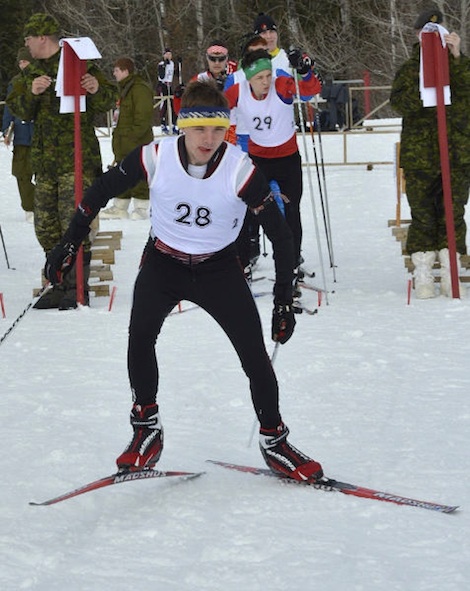 NEWS RELEASE
CADETS CANADA
*************************
Four local cadets finished the last two races in the top 10 of the 2013 National Cadet Biathlon [on the weekend].
Sarah Gaudette, 2310 Royal Canadian Army Cadet Corps, RC(ARMY)CC, Sault Ste. Marie and Jessie Gravel, 696 Royal Canadian Air Cadet Sqn.RC(AIR)CS, Blind River placed a fourth and eighth in the Female Composite Relay and Patrol Races.
Dalton Hertz (shown above), 155 RC(AIR)CS and Austin Olar, 2310 RC(ARMY)CC had a ninth and a fifth in Male Composite Relay and Patrol Race.
This concluded four days of racing with a rest day in-between the first two and last two.
A culture tour had the cadet see the Valcartier area where the National Cadet Biathlon was held at the Myrium Bedard training centre.

The national race was the final of three stages.
The area and regional competitions were held here in Sault Ste. Marie at the Rod and Gun club.
After qualifying to proceed these cadets joined the 18-member Ontario Cadet Team.

The Canadian Cadet program is open to both males and females aged from 12 to 18 years of age.
There is no cost to join and there are Sea, Army and Air Cadets in Sault Ste. Marie.
In Blind River there are Army and Air Cadets.
For more information about other exciting opportunities that the Canadian Cadet Program provides youth, please visit here.
To see the daily results as well as pictures and videos please use the following link.
*************************