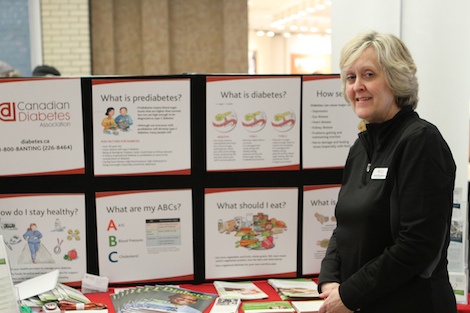 The United Way of Sault Ste. Marie and District, through support from the Ministry of Health and Long Term Care, hosted a Diabetes Healthy Living Expo at the Station Mall this past weekend.

There, SooToday.com spoke with Janie Bringleson (pictured), Sault Ste. Marie branch coordinator with the Canadian Diabetes Association.

She outlined for us a few of the common myths surrounding diabetes, including diabetes is a disease of the elderly, individuals diagnosed with diabetes can never eat sugar again, and children that consume excess sugar will develop diabetes.

"There's a lot of myths that state diabetes develops from what you eat. In reality, diabetes is caused when the body does not make enough insulin or doesn't use the insulin properly," Bringleson explained. "Lifestyle impacts on that, and what you eat is a part of that, but no one meal or no one food will cause diabetes."

In 2013, an estimated 1.3 million people in Ontario live with Type 1 or Type 2 diabetes.

Statistics Canada shows that 9.7 percent of Algoma district residents have diabetes compared to 6.6 percent of people in Ontario.

Some risk factors for the development of diabetes include being over the age of 40, being over weight, heredity, and high cholesterol or high blood pressure.

Some ethnicities, including Aboriginal and South Asian, are known to have a higher incident rate than others.

Maintaining a healthy lifestyle and body weight are two controllable factors when it comes to preventing or delaying the onset of diabetes, Bringleson said.

She suggested daily activity totalling a minimum of 150 minutes per week is the easiest method as long as it's something you enjoy.

"If I tell you to go for a run and you don't like running, you're not going to go. The best activity you can do is the one that you will do," she said.

Saturday's Diabetes Healthy Living Expo included a variety of games, activities and demonstrations all designed to encourage visitors to enjoy an active lifestyle.

For more information about the Canadian Diabetes Association and its initiatives, please click here.

To learn more about the United Way of Sault Ste. Marie and District, please click here.