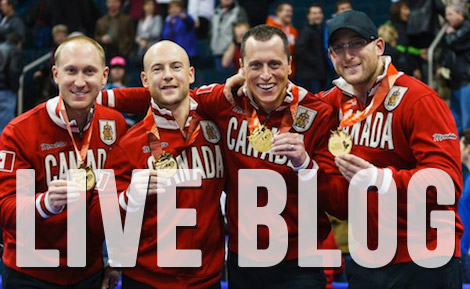 Can't watch Brad Jacobs in action this morning against Team USA at the Olympics?
SooToday.com has you covered as we live blog this morning's match between USA's John Shuster and Sault Ste. Marie's own Team Jacobs.
For a recap of Jacobs opening day win over Germany, click here. For a recap of their day one loss to Switzerland, click here. For a recap of their day two loss to Sweden, click here. To read about their day three win over Russia, click here. Click here for a recap of Thursday's win over Denmark and here for a recap of Friday's win over Norway. For a recap of Saturday's win over Great Britain, click here.
****
2:45 a.m. Update
The Jacobs rink will wrap up their round robin schedule later this morning against China. Jacobs will face the Chinese rink at 10 a.m. Check back with SooToday for a live blog of the game as it happens
2:41 p.m. Update
Shuster attempts a draw to the button to tie. The shot comes to the button just short, giving Jacobs a steal of one and an 8-6 win. With the win, the Jacobs rink has now won five straight since opening the Olympics at 1-2.
With a 6-2 record, the Jacobs rink officially clinches a playoff spot with the win
2:17 a.m. Update
Jacobs draws to score a pair and take a 7-6 lead heading into the tenth end. The shot comes after Shuster attempts to draw to the top of one of the Canadian stones to force JAcobs into a tougher final shot. The Shuster shto overcurls, leaving Jacobs with an easier draw for the points
2:00 a.m. Update
Shuster lies one after a hit-and-roll as Jacobs steps in for his final shot of the eighth end. Jacobs attempts a takout through a tight area between two guards, which would have scored at least four. Instead, the shot catches a piece of one of the guards and Shuster steals one for Team USA and the Americans take a 6-5 lead into the ninth end
1:43 a.m. Update
Holding the hammer in the seventh end, Jacobs takes out the lone Shuster stone and rolls the Canadian rock out as well to blank the end. Score remains tied at five through seven ends
1:24 a.m. Update
Shuster quickly ties the game again. With the final stone of the sixth end, Shuster draws to score one and tie the game at five
1:13 a.m. Update
A draw sees Jacobs score two and take a 5-4 lead coming out of the fifth end
12:59 a.m. Update
Jacobs now facing some adversity. After going up 3-0, Shuster scores two in the third end before a steal of two in the fourth gives Team USA a 4-3 lead
12:45 a.m. Update
Trailing by three, John Shuster gets Team USA on the board with a draw to score a pair in the third end, making the score 3-2 Jacobs.
12:36 a.m. Update
As the third end continues, Jacobs leads 3-0 after a raise attempt leaves Jacobs with a steal of one in the second end to increase the lead
12:17 a.m. Update
Jacobs with the hammer for the first end. He proceeds to draw to score a pair, taking a 2-0 lead after the first end in an important game for the Canadian team, looking to get to 6-2 heading into their final round robin match against China later today