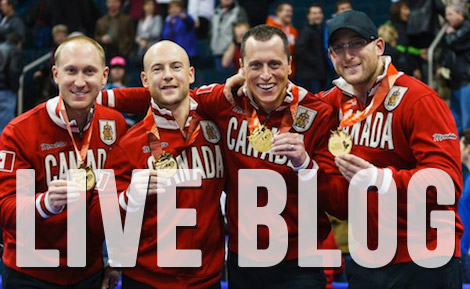 Can't watch Brad Jacobs in action this morning against Sweden at the Olympics?
SooToday.com has you covered as we live blog this morning's match between Sweden's NIklas Edin and Sault Ste. Marie's own Team Jacobs.
For a recap of Jacobs opening day win over Germany, click here. For recap of their day one loss to Switzerland, click here. For SooToday,s live blog of the matchup with Sven Michel of Switzerland, click here.
****
7:44 a.m. Update
Edin sees his draw for one just stop in time to give the Swedish team a 7-6 victory. Sweden improves to 3-0 while the Jacobs rink falls to 1-2. Check back later this morning for a full story
7:31 a.m. Update
Jacobs with a hit-and-stick to score the pair he needs to tie things up. Still in tough though, heading to the tenth end tied at 6 without the hammer
7:15 a.m. Update
Edin will take a 6-4 lead into the ninth end after a scoreless eighth
7:05 a.m. Update
The two teams trade scores of two in the sixth and sevrnth ends, giving Edin a 6-4 lead in the eighth end
6:15 a.m. Update
After Jacobs scores two in the fourth, Edin comes right back with a pair of his own to lead 4-2 over Jacobs
6:00 a.m. Update
Edin tries for a runback double takeout with his first shot of the end but is off. A similar attempt with his second shot takes out one Jacobs rock, leaving the Canadian rink with a draw for two, tying things up heading into the fifth end
5:45 a.m. Update
Jacobs blanks the third end...continues to trial 2-0 heading into the fourth end
5:33 a.m. Update
A great shot by Edin allows the Swedish rink to scored a pair in the second end to take a 2-0 lead and give Jacobs the hammer for the third end
5:15 a.m. Update
First end is in the books and Edin will take the hammer into the second end after a scoreless opening end.
5:10 a.m. Update
Sweden enters action today 2-0 while the Jacobs rink is 1-1 after opening day. Sweden has the hammer for the first end. Jacobs and Edin met in the final of the World Championships with Edin winning the title with an 8-6 win. Edin faced Canada's Kevin Martin in the 2010 Olympics in Vancouver in the semi-final with Martin picking up the win. Martin would go on to win gold while Edin would lose to Switzerland's Marcus Eggler and finish fourth.