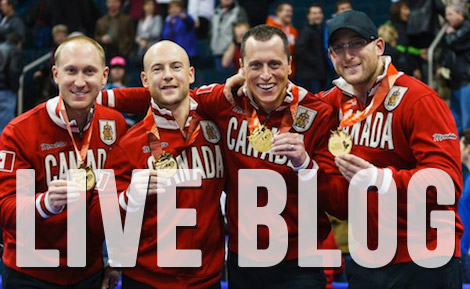 Can't watch Brad Jacobs in action this morning against Russia at the Olympics?
SooToday.com has you covered as we live blog this morning's match between Russia's Andrey Drozdov and Sault Ste. Marie's own Team Jacobs.
For a recap of Jacobs opening day win over Germany, click here. For recap of their day one loss to Switzerland, click here. For a recap of yesterday's loss to Sweden, click here.
****
12:34 p.m. Update
Jacobs runs the Russians out of rocks to pick up a 7-4 win and improve to 2-2. Check back later today for a full story and standings update
12:25 p.m. Update
Canada with a steal of one in the ninth end to take a 7-4 lead into the tenth end, where Russia will have the hammer, needing three to force an extra end
12:08 p.m. Update
A Russian hit-and-stick gets Drozdov's rink back into the game as they score two, cutting the Jacobs lead to 6-4.
11:51 a.m. Update
Another blanked end in the seventh end...6-2 Jacobs into the eighth end
11:37 a.m. Update
A Russian takeout leads to a blanking of the sixth end....Jacobs remains up 6-2
11:22 a.m. Update
The intensity level from the Jacobs rink gets amped up even more as a Jacobs takeout sees the Canadian rink score four and take a 6-2 lead into the sixth end
11:01 a.m. Update
In an attempt to blank the end, Jacobs, looking to remove a Russian stone as well, hits his own guard and leaves a steal of one for Russia. Now a 2-2 tie
10:47 a.m. Update
Jacobs with the hammer blanks the third end, continuing to hold a 2-1 lead into the fourth end
10:36 a.m. Update
Russia, facing a pair of Canadian stones in play, draws for one to cut into the Canadian lead and make it 2-1 heading into the third end
10:20 a.m. Update
Nice start for the Jacobs rink. With three Canadian rocks in play, Russia is short on a draw for one, giving the Jacobs rink a steal of two in the opening end
10:10 a.m. Update
First end is well underway at the Ice Cube Curling Center in Sochi. Russia starts the match with the hammer