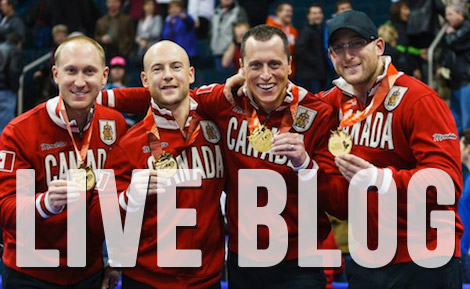 Can't watch Brad Jacobs in action this morning against Norway at the Olympics?
SooToday.com has you covered as we live blog this morning's match between Norway's Thomas UIsrud and Sault Ste. Marie's own Team Jacobs.
For a recap of Jacobs opening day win over Germany, click here. For a recap of their day one loss to Switzerland, click here. For a recap of their day two loss to Sweden, click here. To read about their day three win over Russia, click here. Click here for a recap of Thursday's win over Denmark.
****
2:40 a.m. Update
Jacobs seals the win with three in the ninth end to win 10-4 after a double takeout on the final shot by skip Brad Jacobs. Full story with updated standings to come later this morning
2:10 a.m. Update
Jacobs turns a double takeout into scoring four and takes a big lead into the eighth end...7-3 Jacobs through seven ends. In the eighth, Ulsrud hit-and-sticks for a single point...7-4 Jacobs into the ninth end
1:42 a.m. Update
Norway's Ulsrud uses a raise to lie one and tie things up heading into the seventh end...3-3
1:22 a.m. Update
A blanked fifth end means Canada remains up by one into the sixth end.
1:09 a.m. Update
A hit-and-roll scores a pair in thr fourth end for Jacobs to give Team Canada the lead...3-2 Jacobs
12:54 a.m. Update
Ulsrud's draw is heavy but just holds enough to give Norway a single point in the third end...2-1 Norway
12:38 a.m. Update
Again attempting to take out a pair of Norwegian rocks, Jacobs recovers to make it the second time around to score one...1-1 through two ends
12:17 a.m. Update
Jacobs attempts to take out both Norwegian stones but only gets one, giving up a steal of one in the opening end...1-0 Norway
12:05 a.m. Update
Things just getting underway between Jacobs and Norway's Thomas Ulsrud. The Ulsrud rink won silver in the 2010 Olympics in Vancouver, losing 6-3 to Kevin Martin in the final, and enters today's action with a 3-1 record.