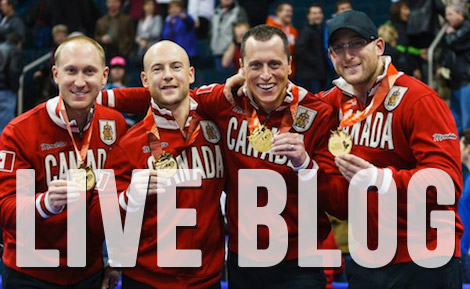 Can't watch Brad Jacobs in action this morning against Denmark at the Olympics?
SooToday.com has you covered as we live blog this morning's match between Denmark's Sven Michel and Sault Ste. Marie's own Team Jacobs.
For a recap of Jacobs opening day win over Germany, click here. For recap of their day one loss to Switzerland, click here. For a recap of their day two loss to Sweden, click here. To read about yesterday's win over Russia, click here
****
7:39 a.m. Update
After the Danish skip sees his final shot slide through the rings, Jacobs draws for a single point and the 7-6 victory to improve to 3-2.
7:27 a.m. Update
Jacobs with the hammer in the final end with things tied up at 6
7:08 a.m. Update
Jacobs draws for a single point in the eighth end to take a 6-4 lead after Denmark had cut the lead to one an end earlier
6:37 a.m. Update
Canada gets a pair in the sixth end to open up a 5-3 lead as the seventh end is underway
6:22 a.m. Update
Sixth end coming up as Denmark picks up one to tie things up at three
6:03 a.m. Update
A draw by Jacobs gives the Canadian rink a pair and a 3-2 lead through four ends
5:57 a.m. Update
Denmark takes a 2-1 lead through three ends
5:33 a.m. Update
Jacob's turn now to draw for one. Third end on the horizon in a 1-1 tie
5:17 a.m. Update
Denmark draws for one to take a 1-0 lead after one end