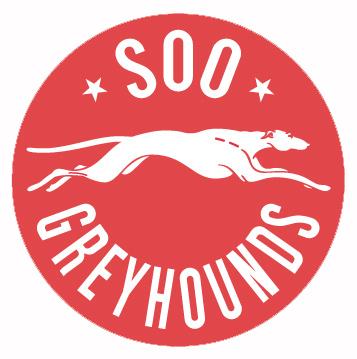 Welcome to SooToday.com's live blog of tonight's Ontario Hockey League game between the Soo Greyhounds and Sarnia Sting at the Essar Centre.
We'll be live from the arena, providing the latest updates from the game.
Check back tonight for a full game story including comments from both coaches.
****
9:57 p.m. Update
Both coaches were pleased with the play of their new acquisitions. Sarnia coach Trevor Letowski credited the play of goaltender Brodie Barrick in the loss.
Greyhounds coach Sheldon Keefe talked about the Greyhounds need to bear down on scoring chances in the win.
9:27 p.m. Update
Blake Speers with the shootout winner as the Greyhounds edge the Sting 3-2
9:20 p.m. Update
Shootout looming after a scoreless overtime period. Final shots are 44-22 Greyhounds
9:17 p.m. Update
Jared McCann is robbed by Brodie Barrick with 3.9 seconds left in the overtime period. Greyhounds use their timeout
9:15 p.m. Update
Sarnia takes their timeout with 40 seconds left
9:13 p.m. Update
Under two minutes to go in overtime
9:08 p.m. Update
We're heading to overtime, but not before Nikolay Goldobin with a chance at the buzzer for Sarnia. Shots are 40-20 through three periods.
9:07 p.m. Update
Final minute of action in a 2-2- tie
9:03 p.m. Update
Tyler Gaudet ties the game at two , scoring on a wrap around to the glove side on Barrick
8:51 p.m. Update
Patrick White beats Kyle Jenkins to the outside and cuts in on Matt Murray, scoring stick side in the process
8:49 p.m. Update
Blake Speers downt he right wing takes a shot from the faceoff circle that beats Brodie Barrick stick side to tie the game at one. Newly-acquired forward Bryan Moore picks up the lone assist on the play
8:44 p.m. Update
Ganly isn't in the dressing room long as the veteran defenceman has returned to the bench
8:42 p.m. Update
3rd period is underway. Tyler Ganly takes a hit behind the Greyhounds goal and leaves the ice in some discomfort and heads to the dressing room.
8:22 p.m. Update
1-0 Sarnia through two periods as the Greyhounds lead 28-13 in shots through 40 minutes
8:15 p.m. Update
Sarnia continues to hold a 1-0 lead with under four minutes left in the period despite being outshot heavily by a 25-11 margin
8:04 p.m. Update
Just over 12 minutes left in the second period. Sarnia holding on to a 1-0 lead
7:56 p.m. Update
After some technical issues, it looks like we're back up and running consistently here at the Essar. Greyhounds trail 1-0 on a goal by Nikolay Goldobin. Shots are 13-10 Greyhounds
7:36 p.m. Update
Late stages of the opening period and Sarnia remains up 1-0. Greyhounds struggling on their two power plays in the opening period despite a couple of good chances
7:26 p.m. Update
Apologies for the lack of early updates tonight folks. Some technical glitches are forcing my hand tonight at the Essar. Sarnia currently leads 1-0 on a goal by Nikolay Goldobin at 9:42 on a breakaway
7:11 p.m. Update
We're underweay at the Essar Centre. All new players in the starting lineup with their respective teams
Pre-game
Lineups are set for both clubs. Players involved in Tuesday's trade between the two clubs are all in the lineup tonight,. Bryan Moore and Tyler Hore will suit up for the Greyhounds while Kevin Spinozzi is in the lineup for Sarnia. Sault native Ryan Vendramin is also in the lineup for Sarnia tonight.
Scratches
Sault Ste. Marie: Jorgen Karterud (healthy, Trent Mallette ({injured) and Jean Dupuy (injured). The Greyhounds will had a fourth player out of the lineup that will be determined after the wramup.Karterud was givent he day off after issues travelling back from the World Junior tournament. Keigan Goetz is the fourth scratrch for the Greyhounds
Sarnia: Anthony DeAngelo (suspension; game five of five), Alexandre Renaud (injured)
Lines
Sault Ste. Marie: Bryan Moore-Jared McCann-Andrew Fritsch, Michael bunting-Tyler Gaudet-PAtrick Watling, Sergey Tolchinsky-David Miller-Blake Speers, Brandon Hughes-Dylan Corson-Keigan Goetz; Darnell Nurse-Alex Gudbranson, Tyler Hore-Tyler Ganly, David Eccles-Kyle Jenkins, Colton White will be the extra defenceman, Matt Murray
Sarnia: Nikolay Goldobin-Nikolas Latta-Nikita Korostelev, Davis Brown-Daniel Nikandrov-Brandon Lindberg, Patrick White-Vladislav Kodola-Matteo Ciccarelli, Ryan Vendramin-Noah Bushnell; Kevin Spinozzi-Joshua Chapman, Connor Schlichting-Jimmy McDowell, Jeff King-Zachary Core, Brodie Barrick
Starters
Sault Ste. Marie: Bryan Moore-Jared McCann-Andrew Fritsch, Alex Gudbranson-Darnell Nurse, Matt Murray
Sarnia: Nikolay Goldobin-Nickolas Latta-Nikita Korostelev, Kevin Spinozzi-Joshua Chapman, Brodie Barrick