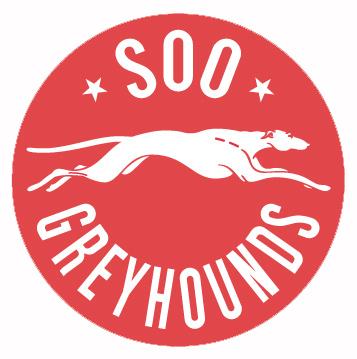 Welcome to SooToday.com's live blog of this evenings game between the Saginaw Spirit and Sault Ste. Marie Greyhounds at the Essar Centre.
The game ends a three-game homestand for the Greyhounds.
Check back tonight for a full recap of the game with comments from both coaches.
****
Post-Game Update
Greyhounds coach Sheldon Keefe told media following the game he was disappointed with the Greyhounds final two periods in the win.
Saginaw coach Greg Gilbert credited his goaltenders despite the loss. Gilbert felt the rest of the team "hung them out to dry" specifically Jake Paterson in the opening period.
9:20 p.m. Update
Greyhounds hold on for the 6-3 win over Saginaw
9:17 p.m. Update
Greyhoudns hold a 6-3 lead with under two minutes left in regulation time
9:10 p.m. Update
Eric Locke scores on a penalty shot after being upended on a breakaway by Alex Gudbranson...6-3 Sault Ste. Marie as Sergey Tolchinsky heads to the penalty box for slashing
9:05 p.m. Update
Greyhounds continue to lead 6-2 with just over eight minutes remaining
8:53 p.m. Update
Third period is underway as the Greyhounds open the scoring in the period. Patrick Watling scores on a loose puck on an open net after Serebryakov makes two initial stops on Sergey Tolchinsky...6-2 Sault Ste. Marie
8:31 p.m. Update
Greyhounds lead 5-2 through 40 minutes as they also hold a 33-28 edge on the shot clock as well
8:15 p.m. Update
Dyan Sadowy with a diving effort to chip a feed from Nick Moutry over Murray's glove side. Sadowy dove and chipped the pass over Murray's shoulder...5-2 Sault Ste. Marie
Of note, the Greyhounds first goal has been changed from Sergey Tolchinsky to Dylan Corson
8:12 p.m. Update
JAred McCann with a laser off a drop pass from Andrew Fritsch in the left faceoff circle. McCann's shot beats Serebryakov high short side on the play...5-1 Sault Ste. Marie
8:08 p.m. Update
Saginaw does a good job killing off the double minor....Patrick Watling has returned for the Greyhounds as well
8:02 p.m. Update
Second period kicks off as Nikita Serebryakov takes over for Jake Paterson in the SAginaw goal. Nick Moutry takes a double minor early in the frame after a hit on Patrick Watling. Watling has left the game with a left arm injury
7:46 p.m. Update
Bryan Moore scores on a breakaway sliding the puck five-hole on Paterson with 7.5 seconds left in the opening period. Greyhounds lead 4-1 through 20 minutes. Shots are 20-14 Greyhounds
7:43 p.m. Update
Patrick Watling benefits from a turnover in the slot by Jacob Ringuette, beating Paterson with a shot low stick side...3-1 Sault Ste. Marie
7:38 p.m. Update
Trent Mallette with a shot through traffic from the slot hits the post and goes in past Paterson after earlier chances by David Miller and JOrgen Karterud...2-1 sault Ste. Marie
7:28 p.m. Update
Greyhounds get the first power play of the night as Jesse Graham is off for a cross check
7:22 p.m. Update
Cody Payne slips the puck past Matt Murray on a breakaway for the Spirit...1-1
7:17 p.m. Update
Sergey Tolchinsky stopped on his initial chance by Jake Paterson, scores ont he rebound. Kyle Jenkins initial chance from theright point finds its way to Tolchinsky in tght...1-0 Sault Ste. Marie
7:12 p.m. Update
Puck has dropped and the game is underway
Pre-Game Update
Lineups are set
Scratches
Sault Ste. Marie: Colton White, Brandon Hughes, Michael Bunting (knee), Jean Dupuy (concussion)
Saginaw: Daniel DeSousa, Andrey Alexeev, Justin Kea (injury)
Lines
Sault Ste. Marie: Bryan Moore-Jared McCann-Andrew Fritsch, Patrick Watling-Tyler Gaudet-Keigan Goetz, Dylan Corson-Blake Speers-Sergey Tolchinsky, Jorgen Karterud-David Miller-Trent Mallette; Darnell Nurse-Alex Gudbranson, Tyler Hore-Tyler Ganly, David Eccles-Kyle Jenkins; Matt Murray
Saginaw: Eric Locke-Kristoff Kontos-Jimmy Lodge, Nick Moutry-Dylan Sadowy-Terry Trafford, Blake Clarke-Mitchell Stephens-Cody Payne, Luke Cairns-Ryan Orban-Jeremiah Addison; Jacob Ringuette-Justin Sefton, Sean Callaghan-Jesse Graham, Brandon Prophet-Michael Holmes; Jake Paterson
Starters
Sault Ste. Marie: Bryan Moore-Jared McCann-Andrew Fritsch;Tyler Hore-Tyler Ganly; Matt Murray
Saginaw: NIck Moutry-Dylan Sadowy-Terry Trafford; Sean Callaghan-Jesse Graham; Jake Paterson