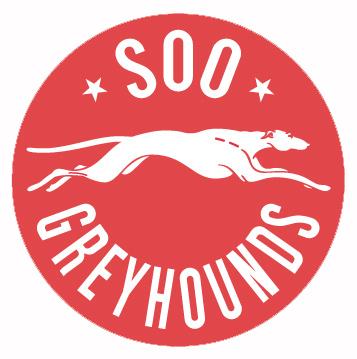 Welcome to SooToday.com's live blog of tonight's Ontario Hockey League game between the Soo Greyhounds and Mississauga Steelheads from the Essar Centre,
Tonight marks the lone appearance in Sault Ste. Marie for the Steelheads.
Check back tonight for a full game story with comments from both coaches.
****
9:10 p..m. Update
Greyhounds pick up a 4-1 win over the Steelheads. Game story with coaches comments to come
9:08 p.m. Update
With Spencer Martin on the bench foir the extra attacker as the teams play four-on-four, Tyler Gaudet scores into the empty net...4-1 Greyhounds
8:58 p.m. Update
Sergey Tolchinsky in along beats Spencer Martin after a pass from Tyler Ganly in the Greyhounds zone. The pass was flipped in the air past everyone and ahead of Tolchinsky breaking into the Mississauga zone...3-1 Sault Ste. Marie
8:49 p.m. Update
Kyle Jenkins picks up a loose puck in the slot and his wrist shot beats Spencer Martin through a crowd in the slot glove side
8:47 p.m. Update
Everett Clark off for a check to the head and the Greyhounds are back on the power play
8:37 p.m. Update
Mississauga kills off the final 26 seconds of the five-on-three.
8:22 p.m. Update
43 seconds left in the period and prett Foy is called for roughing, giving the Greyhounds a late period five-on-three that will stretch into the third period for 26 seconds.
The game heads into the third period tied at one. Shots are 29-11 Sault Ste. Marie
8:15 p.m. Update
Nick Zottl off for checking from behind late in the period to give the Greyhoundsa a power play
8:05 p.m. Update
Andrew Fritsch gives the Greyhounds their first goal of the night as he drives the net and redirects a feed from Jared McCann on the left win past Spencer Martin...1-1
8:00 p.m. Update
Just over seven minutes into the second period and Mississauga continues to hold a 1-0 lead. Greyhounds lead Mississauga on the shot clock 20-8
7:52 p.m. Update
Second period action is underway
7:35 p.m. Update
Mississauga leads the Greyhounds 1-0 through one period...Greyhounds lead 14-6 on the shot clock.
7:29 p.m. Update
Greyhounds kill off the penalty to Hore without giving up any major chances
7:27 p.m. Update
Mississauga to their first man advantage of the evening as Tyler Hore is called for holding
7:24 p.m. Update
Steelheads kill off the penalty to Day and the game remains 1-0 for Mississauga
7:21 p.m. Update
Greyhounds to their second power play of the night as Sean Day is off for delay of game. Greyhounds power play struggled in their first opportunityof the night
7:10 p.m. Update
Bryan Moore turns the puck over just inside the Mississauga zone and Bobby MacIntyre slides the puck five-hole on Brandon Halverson just 20 seconds into the game...1-0 Mississauga
Pre-game
Lineups are in for tonight:
Scratches
Sault Ste. Marie: Colton White, K:eigan Goetz, Brandon Hughes, Jean Dupuy
Mississauga: Stephen Gibson, NAthan Bastien, Damian Bourne
Lines
Sault Ste. Marie: Bryan Moore-Jared McCann-Andrew Fritsch, Jorgen Karterud-Blake Speers-Sergey Tolchinsky, Patrick Watling-Tyler Gaudet-Dylan Corson, Michael Bunting-David Miller-Trent Mallette; Darnell Nurse-Alex Gudbranson, Tyler Hore-Tyler Ganly, David Eccles-Kylle Jenkins; Brandon Halverson
Mississauga: Bobby MacIntyre-Brett Foy-Andrew Goldberg, Josh Burnside-Bryson Cianfrone-Artem Rasulov, Jacob JAmmes-Jesse Barwell-Austin Gerhart, Brandon Belding-Everett Clark-Sam Babintsev; Sean Day-Jacob Graves, Stefan LeBlanc-Jared Walsh, Nick Zottl-Greg DiTomasso; Spencer Martin
Starters
Sault Ste. Marie: Bryan Moore-JAred McCann-Andrew Fritsch; Darnell Nurse-Alex Gudbranson; Brandon Halverson
Mississauga: Bobby Macintyre-Brett Foy-Andrew Goldberg; Sean Day-Jacob Graves; Spencer Martin