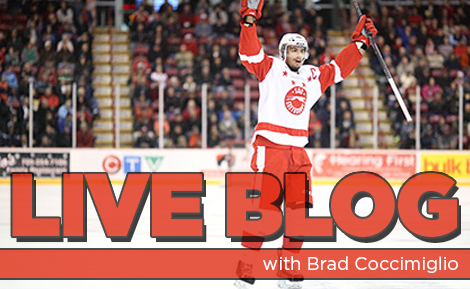 Welcome to SooToday.com's live blog of this evenings Ontario Hockey League game between the Kitchener Rangers and Sault Ste. Marie Greyhounds at the Essar Centre.
The game is the first of two games at home this weekend for the Greyhounds. The game is also the fourth and final meeting of the season between the Rangers and the Greyhounds. The Greyhounds are coming off a shootout win in Sudbury on Wednesday night.
Check back later tonight for a full story
****
9:39 p.m. Update
Greyhounds coach Sheldon Keefe called the second period tough to watch and wasn't pleased with the Greyhounds play but calls it a learning experience heading towards the playoffs.
Rangers coach Troy Smith called the early parts of the second period a crucial time for the Rangers and a goal or two could have made a difference
9:17 p.m. Update
Greyhounds hold on for a 2-1 win over the Rangers
9:14 p.m. Update
Brent Pedersen bangs in a loose puck after Scott Teskey and Matia Marcantuoni are stopped initially and it's 2-1 Greyhounds. With goaltender Jordan DeKort out, Pedersen hits the post with just under 30 seconds left
9:10 p.m. Update
3:51 left in the game and the Greyhounds continue to lead by a pair of goals
9:02 p.m. Update
Moments after the Greyhounds kill of a penalty to Bryan Moore, Frank Hora heads to the box for Kitchener to give the Greyhounds a power play with 8:53 left in the period
8:59 p.m. Update
Blake Speers beats Jordan DeKort after Charley Graaskamp can't get the initial shot off. Graaskamp takes a drop pass in tight on the Rangers goal to start the play...2-0 Greyhounds
8:46 p.m. Update
Third period about to get underway between the Rangers and Greyhounds
8:28 p.m. Update
SLow start to the period for the Greyhounds but they come on late and apply some pressure....1-0 Greyhounds through 40 minutes. Shots in the period were 11-9 Kitchener and are 18-15 Sault Ste. Marie overall
8:12 p.m. Update
Greyhounds continue to lead 1-0 midway through the second period. Brandon Halverson much busier this periuod. Shots are 9-1 Rangers. Kitchener playing much better
7:58 p.m. Update
Second period is underway and the Greyhounds are shorthanded for the first two minutes after the Greyhounds hit with a too many men penalty at the end of the opening period
7:42 p.m. Update
20 minutes in the books and the Greyhounds are up 1-0, outshooting the Rangers 9-4 in the opening period
7:39 p.m. Update
Fanelli off again for the Rangers with 2:21 left in the opening period. Greyhounds back to the power play
7:34 p.m. Update
Rangers get their second power play of the night as Dylan Corson is called for holding the stick
7:31 p.m. Update
Ben Fanelli off for high sticking and the Greyhounds head to their second power play of the night
7:27 p.m. Update
On a delayed penalty call, Alex Gudbranson picks up the puck in the right faceoff circle and his shot beats Jordan DeKort high short (glove) side...1-0 Greyhounds
7:23 p.m. Update
Dylan DiPerna off for holding and the Greyhounds head to their first power play
7:16 p.m. Update
Rangers get the first power play of the night 2:26 in as the Greyhounds caught for too many men
7:11 p.m. Update
Game time is upon is. Puck is down and w'ere underway
Pre-Game Update
Lineups are set
Scratches
Sault Ste. Marie: Keigan Goetz, David Eccles, Trent Mallette, Michael Bunting (knee injury)
Kitchener: Nick Magyar, Max Iafrate, Paxton Leroux, Justin Bailey
Lines
Sault Ste. Marie: Sergey Tolchinsky-Jared McCann-Andrew Fritsch, Jean Dupuy-David Miller-Dylan Corson, Patrick Watling-Tyler Gaudet-Bryan Moore, Jorgen Karterud-Charley Graaskamp-Blake Speers; Darnell Nurse-Alex Gudbranson, Kyle Jenkins-Tyler Ganly, Tyler Hore-Colton White; Brandon Halverson
Kitchener: Darby Llewellyn-Curtis Meighan-Scott Teskey, Mason Kohn-Ryan MacInnis-Brandon Robinson, Brent Pedersen-Matia Marcantuoni-Dominik Kubalik, Mark Bzowey-Jimmy Soper-Mike Davies; Ben Fanelli-Frank Hora, Doug Blaisdell-Dylan DiPerna, Dmitri Sergeev-Logan Schmidt; Jordan DeKort
Starters
Sault Ste. Marie:Patrick Watling-Tyler Gaudet-Bryan Moore; Darnell Nurse-Alex Gudbranson; Brandon Halverson
Kitchener: Brent Pederson-Matia Marcantuoni-Dominik Kubalik; Ben Fanelli-Frank Hora; Jordan DeKort