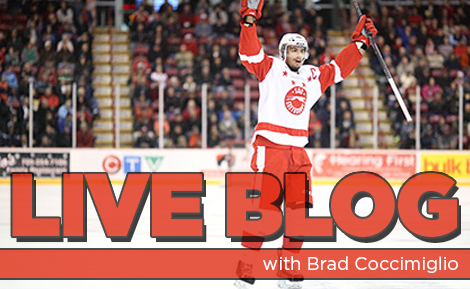 Welcome to SooToday.com's live blog of this afternoon's Ontario Hockey League game between the Guelph Storm and Sault Ste. Marie Greyhounds at the Essar Centre.
The game is the second of two games at home this weekend for the Greyhounds. The game is also the final meeting of the season between the Storm and the Greyhounds and is the second meeting in two weeks in Sault Ste. Marie between the two clubs. The two teams last met in Sault Ste. Marie on Feb. 14, a 5-3 win for the Storm. The Greyhounds are coming off a 2-1 win over the Kitchener Rangers on Saturday night
Continue to refresh your browser throughout the night for the latest updates from the arena.
****
4:27 p.m. Update
Brock McGinn with the shootout winner as Guelph takes this one 4-3
4:25 p.m. Update
As we prepare for the shootout, SooToday's Kenneth Armstrong passed along a shot from the earlier fight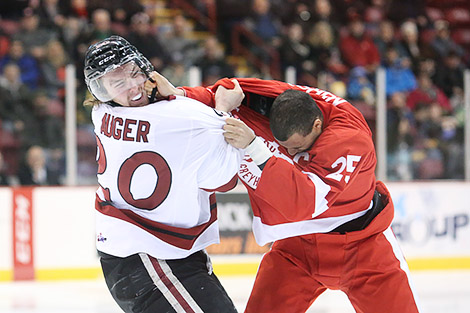 4:22 p.m. Update
Under 15 secopnds left and Justin Nichols makes a nice stop on David Miller and we're heading to a shootout at the Essar
4:19 p.m. Update
Guelph's Jason Dickinson hit with a holding the stick penalty and the Greyhounds are on the power play for the final 1:25 of overtime
4:12 p.m. Update
Sergey Tolchinsky has a chance as time expires but can't convert and we're off to overtime. Shots sit at 38-33 Greyhounds (16-7 Sault in the third)
4:09 p.m. Update
After a stop on Dylan Corson from the right side boards, Nichols makes a diving stop on Jean Dupuy on an open net with 2:16 left
4:02 p.m. Update
Ben Harpur off for slashing
3:51 p.m. Update
Justin Auger takes the puck in the slot, his shot beats Murray high glove side to tie the game at three
3:49 p.m. Update
David Miller in the slot picks up a loose puck and slides it under Nichols...3-2 Greyhounds
3:42 p.m. Update
Third period is just getting underway
3:24 p.m. Update
Darnell Nurse takes a delay of game penalty with 19.1 seconds left in the second period. With 15.4 seconds left, Nick Ebert hits a one-timer from the top of the right circle on a feed from Zack Mitchell and it's 2-2 through 40 minutes. Guelph holds a 26-22 edge in shots after outshooting the Greyhounds 18-8 in the second period
3:06 p.m. Update
Zack Mitchell redirects a feed from Brock McGinn on a shorthanded 3-on-1 with Nick Ebert...2-1 Greyhounds. Just nine seconds after the goal Kyle Jenkins is hit with a tripping penalty
3:04 p.m. Update
Sdott Kosmachuk is the latest to go off for the Storm, this time for roughing and the Greyhounds are back on the power play
3:00 p.m. Update
Tyler Gaudet's shot from inside the right faceoff circle beats Justin Nichols short (glove) side on a cross-ice feed from Jared McCann...2-0 Greyhounds
2:58 p.m. Update
Robby Fabbri of Guelph to the box for tripping and the Greyhounds are off to the power play
2:51 p.m. Update
Darnell Nurse and Justin Auger decide to fight 31 seconds into the period
2:48 p.m. Update
Secodn period is underway
2:35 p.m. Update
ONe period down at the Essar Centre and the Greyhounds lead 1-0. Shots are 14-8 Greyhounds
2:27 p.m. Update
Greyhounds get their first power play of the night as Ryan Horvat is called for slashing
2:16 p.m. Update
Blake Speers tries to put the puck on net from the right wing and it winds up being redirected in by Sergey Tolchinsky...1-0- Greyhounds
2:12 p.m. Update
Guelph to the first power play of the game as David Miller is called for hooking. 16 seconds into the penalty, Patrick Watling and Nick Ebert are sent off as well
2:03 p.m. Update
Game is underway
Pre-Game Update
Lineups are set
Scratches
Sault Ste. Marie: Keigan Goetz, David Eccles, Trent Mallette, Michael Bunting (knee injury)
Guelph: Adam Craievich, Tyler Bertuzzi (injury), Garrett McFadden
Lines
Sault Ste. Marie: Sergey Tolchinsky-Jared McCann-Andrew Fritsch, Jean Dupuy-David Miller-Dylan Corson, Patrick Watling-Tyler Gaudet-Bryan Moore, Jorgen Karterud-Charley Graaskamp-Blake Speers; Darnell Nurse-Alex Gudbranson, Kyle Jenkins-Tyler Ganly, Tyler Hore-Colton White; Matt Murray
Guelph: Kerby Rychel-Robby Fabbri-Zack Mitchell, Brock McGinn-Jason Dickinson-Scott Kosmachuk, Ryan Horvat-Stephen Pierog-Justin Auger, Chadd Bauman-Pius Suter-Marc Stevens; Matt Finn-Steven Trojanovic, Zac Leslie-Nick Ebert, Phil Baltisberger-Ben Harpur; Justin Nichols
Starters
Sault Ste. Marie:Jean Dupuy-David Miller-Dylan Corson; Darnell Nurse-Alex Gudbranson; Matt Murray
Guelph: Ryan Horvat-Stephen Pierog-Justin Auger; Zac Leslie-Nick Ebert; Justin Nichols