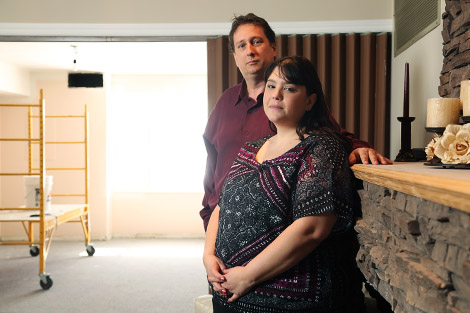 Breathing new life into the funeral business may not be easy to accomplish, but licensed funeral director Lisa Damignani wanted to do just that when she purchased O'Sullivan Donnelly Funeral Home.

Damignani and her husband, Mark Trudel (pictured above), took ownership of the downtown business on Feb. 5.

Len and Rose Donnelly had operated the funeral home since 1974. Damignani apprenticed there after graduating from Humber College's funeral service program and has been on staff for the last six years.

The idea of purchasing the funeral home and continuing the legacy began about two years ago.

"It's about helping families at their worst time, taking some of the burden off of them," said Damignani.

Damignani and Trudel purchased the St. James Street funeral home itself but not the Blessed Sacrament church across the street, which will remain owned by Donnelly.

"One of the first questions people ask us is 'Are you renovating?'" said Trudel.

"We are hoping to expand the (funeral home) chapel here in the next couple of years," said Damignani.

"When the funds are available we'll be adding an elevator," added Trudel.

Renovations are being done room by room and the new owners say families have been very supportive of the changes as funerals are still being conducted around the work being done.

The renovations themselves are a family affair. Trudel is doing the painting and drywall while Damignani's brother is installing the flooring.

Trudel's mother is picking out the plants, which will be situated throughout the funeral home.

Family-run funeral homes have become much more rare in recent years, as many are now corporately owned.

Damignani wants to maintain the personal touch, not be driven by corporate profits controlled by a board of directors in a faraway city.

The name of the business will be simplified to O'Sullivan Funeral Home, but Len Donnelly will still have a role to play.

Donnelly will stay on part-time for two years to assist in the transition.

Besides removing the dated wood-panelling and carpets, Damignani plans to bring the funeral home up-to-date in other ways.

An inviting fireplace has been added to the first room that has been renovated, and a television has been added to the room for families to display videos and slideshows.

The business has also added wi-fi, so that families can stay in touch with loved ones who may not have been able to attend a service.

The funeral home itself will be tapping into social media, such as Facebook, once the renovations are complete.