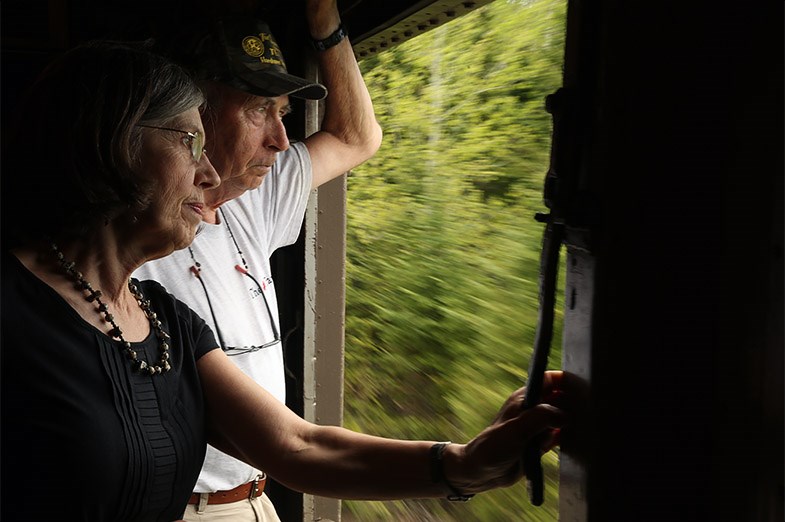 A trans-Canada passenger train is considering a route change crossing closer to the Sault and may offer the possibility of a link-up with the Algoma Central Railway (ACR).


Via Rail is open to the possibility of moving the Winnipeg to Toronto corridor of their Canadian passenger train from CN tracks to CP, said Maxime Dupont-Demers.
"Hopefully the trip between Winnipeg to Toronto can resume. We're hoping for the summer season we will be back on track but we cannot give a timeframe for that," he said.


The proposed route change would mean the VIA passenger train would cross the ACR at Franz instead of the current crossing north at OBA.


If enacted, the VIA passenger train would then travel along rails closer to Lake Superior.
"From a tourism standpoint the southern route is particularly attractive because of the views of Lake Superior," said Linda Savory Gordon, co-chair of the Coalition for Algoma Passenger Trains (CAPT).


The propsed change would modify the route from the current Winnipeg-Sioux Lookout-Hornepayne-Sudbury to Winnipeg-Thunder Bay-White River-Sudbury.
Savory Gordon said the added benefit to Via would be increased ridership because the train would pass through more populous towns and cities along that route.
Earlier this month, VIA temporarily suspended service of the Canadian passenger service in light of speed restrictions imposed by CN after recent derailments on their line near Gogama.

"If you're stuck behind that (freight) train for 600 kilometres, it is a big waste of time and you could be late," said Dupont-Demers.

Dupont-Demers said VIA may resume on the current tracks if CN lifts the speed restriction, but signing an agreement with CP for the use of their infrastructure is still a possibility.
"We are considering all options," he said.
He notes no agreements are currently in place and even if CP agrees to allow VIA to use their rails, that would require months of training for their train staff.
VIA is offering customers vouchers or rebates for the cancelled passenger trains during the suspension of service.

Savory Gordon is encouraged by the possibility of an ACR transfer point closer to the Sault. Currently there is no simple way to transfer from the ACR to VIA, or vice-versa.


"What we want is to have a functional transfer point on the ACR down to the Sault, and using the Huron-Central line from Sault to Sudbury-North Bay," said Savory Gordon.
Dupont-Demers said it was too early to say if a transfer point at Franz would be feasible for VIA to consider.


The potential to transfer trains becomes a moot point if the federal government decides to not provide a subsidy to continue the ACR service between Sault Ste. Marie and Hearst.


CAPT is calling on supporters interested in saving the ACR to assemble at the city council meeting tonight in Sault Ste. Marie.


"It's the eleventh hour. We have so few days left, it's an attempt to put a little more pressure on for a solution," said Savory Gordon.


She said a resolution is expected to be passed in support of the service receiving a subsidy to continue under a new third-party operator.


"We hope this will be the last time we have to go and get a resolution passed on this particular issue," she said.
(PHOTO: Coalition for Algoma Passenger Trains (CAPT) co-chair Dr. Linda Savory Gordon and trapper George Karasek look out the open side of a baggage car on the Algoma Central Railway's 100th anniversary voyage from Sault Ste. Marie, Ont. to Hearst, Ont. May 31, 2014. Karasek maintains a trapline near Oba, Ont. SooToday.com/Kenneth Armstrong)