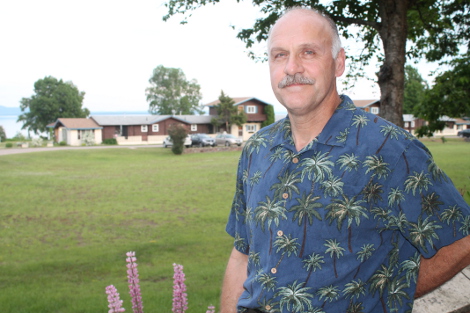 Armando Tempesta is now retired after 29 years of service as a Sault Ste. Marie Police Service Constable, but after putting in his final shift June 19, he has no intention of slowing down.
Armando is well-known to SooToday.com and other local media as one of the officers who, as a member of the Sault Ste. Marie Police Community Services Branch, helped keep us up-to-date on Police matters on a daily basis.
Now 60, Armando told SooToday.com he intends to stay busy as a friendly server at the Lake Shore Salzburger Hof Resort of Batchawana Bay, 65 kilometres north of Sault Ste. Marie.
Armando is pictured here with some of the Salzburger Hof's suites in the background.
The Lake Shore Salzburger Hof Resort provides superb Austrian and German food and accommodations, with a breathtaking view of Batchawana Bay.
The business has been owned and operated since 1972 by Armando's mother-in-law, Ann Elsigan.
Armando and his wife Sylvia, along with his brother-in-law and sister-in-law, help run the restaurant and resort.
His role at the Salzburger Hof is a continuation of work he has enjoyed for many years.
When he was working as a Sault Ste. Marie Police Constable, Armando would put in his usual Monday to Friday, 8 a.m. to 4 p.m. shift, then drive out to the restaurant and work from 5:30 p.m. to as late as 11 p.m., from May to October.
An impossibly demanding schedule for most people, but Armando told us "I get antsy if I'm sitting around."
"I like to keep moving. I pretty well had two full time jobs since 1984, but I don't feel 60, I feel 45. The secret is to keep moving and avoid stressful situations."
Are there any other secrets to his energetic lifestyle?
"I take a lot of B-100 vitamins," he laughed.
"It gives me that kick in the afternoon, it keeps me going."
Of his work at the resort, Armando said, "I like people. I like to joke around with people who come to the resort on holidays, I like to cheer them up and make them feel at home."
"We have our regular customers and guests, a steady clientele that goes through."
"Along with the restaurant, I make minor repairs to the resort. I do whatever I can do. I do windows, but I don't make beds," he chuckled.
Once the summer tourist season passes, Armando and Sylvia plan to do some travelling.
The couple has been to South Africa before, but would like to experience trips to such exotic places as Kenya's Serengeti region.
"If you go to places like Africa or Australia when you have the opportunity, while your health is good, then you can look back at your photos and say 'I remember that, we were there."
A Toronto native, Armando first worked in Sault Ste. Marie in 1972 for the Ontario Ministry of Natural Resources as an apprentice aircraft mechanic, performing maintenance on the water bombers that were stationed here.
It was here he met Sylvia.
The couple moved to Toronto in 1973, where Armando worked as a Metro Toronto Police officer for 11 years.
Armando said Sylvia wanted to return to her hometown, so they made the journey back to Sault Ste. Marie.
Armando joined the Sault Ste. Marie Police Service in September 1984 as a patrol officer, eventually taking on administrative duties in 1996, and beginning in 2000, served with the Community Services Branch.
The difference between life as a Sault Ste. Marie Police officer and as a Toronto Police officer, Armando told us, "is like day and night."
"In Toronto, I was in the Downtown Division. It was busy, it was hopping all the time."
"As a Police officer in the Sault, you can walk into a coffee shop and everybody comes over and talks to you."
"In Toronto, you walk into a coffee shop and it's like parting the sea. You walk in and everybody moves out of your way. You order your coffee then walk out, and the waves of people come back to where you were."
"Here it's more community minded. You're able to know the Police. It's your city."