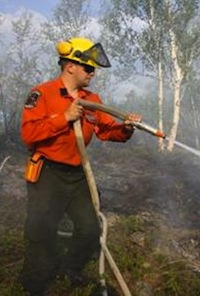 NEWS RELEASE
MINISTRY OF NATURAL RESOURCES
*************************
Northeast Region - June 10, 2013
New fires
Six new fires were confirmed in the Northeast Region since the last report was issued.
Two fires caused by lightning in the Cochrane District are being observed.
Cochrane fire numbers 3 and 4 are 60.0 and 2.5 hectares in size respectively.
These fires are not threatening any communities or structures.
Algonquin Park 2 and Timmins 3 each burned 0.1 hectares and are both out.
Sudbury 13 is under control at 0.7 hectares.
North Bay 2 is under control at 2.3 hectares.
Active fires
There are no issues or concerns with any of the active fires in the region.
Fire hazard
The fire hazard is high to extreme in areas north of Parry Sound.
Extreme caution must be exercised when doing any outdoor burning.
Be FireSmart!
Under the Forest Fires Prevention Act (FFPA) the only materials that can be burned without a fire permit are grass, wood, brush or wood by-products and people must tend their fires at all times making sure to put them out dead out before leaving.
If it is windy, the risk of a wildfire is high – don't burn!
If a forest fire results because you have used fire improperly, you could be held responsible for the costs of putting out the fire and for any property damage that occurs.
Residents in organized municipalities are reminded to check with local officials for burning restrictions that may be in place in their areas.
Further information is available on safe outdoor fire management at this website.
For more information about the current fire situation, visit here.
Report forest fires north of the French and Mattawa rivers by calling 310-FIRE (3473).
In southern regions, forest fires can be reported by calling your local fire department.
*************************