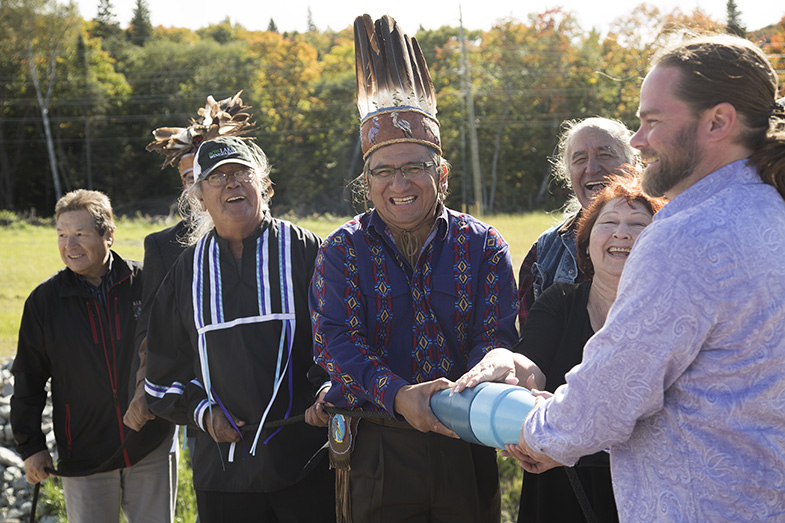 An unprecedented partnership between industry and a First Nation was celebrated yesterday during the commissioning ceremony for a wind energy project northwest of the Sault.
"In this case life is changing at the flick of a switch in commissioning this project. Batchewana First Nation has a lot to be proud of today," said Ontario Regional Chief Isadore Day at a ceremony held Tuesday to celebrate the Bow Lake Wind Project coming online.
Day said the project is about more than just energy — it's about nation building and symbolizes implementation of the treaties.
"On the bigger picture and why this project is so important is Batchewana First Nation were clearly successful in establishing a consent-based approval process. I commend the leadership of Chief Sayers and council to make this project a reality," said Day.
Day believes the partnership could set a standard for how business and the provincial government deal with First Nations — on an equal footing.
"I think government must realize one of the things Batchewana had insisted during this project is Batchewana as a nation has its own economic, private sector interests. They are part of industry now, but they also have now the jurisdiction and authority in their government," he said.
Nodin Kitagan Limited Partnerships represents a 50/50 equity partnership between Batchewana First Nation and Calgary-based BluEarth Renewables, Inc. to develop the 36 General Electric wind turbine project.
Phase 1, consisting of the first 12 turbines, came online in August. The remaining 24 turbines in phase 2 came online Monday.
BluEarth president and CEO Grant Arnold said the 50/50 partnership is unique at this scale.
"It's a very good model and fundamental to the success of the project. The resource is good, the willingness of Ontario to move in this direction is a big part of it," said Arnold.
He added, "there's more to come, I hope and this becomes a model for the rest of Canada. We're quite proud of it."
Chief Dean Sayers said forecasted returns from the project are between $2-3 million dollars annually for Batchewana First Nation.
The project has had an additional economic impact on the community, as 80 band members worked construction during the project, which broke ground last December.
"We had some nice family Christmas dinners as a result. That is 80 families that may not have had that kind of a Christmas if not for this project," said Sayers.
The remote location for the project, along with 10 feet of annual snowfall were challenges for the project, as was finding a balance with environmental concerns brought forth by protesters.
The Ontario Ministry of the Environment (MOE) approved the Bow Lake Wind Farm project December 16, 2013 before a request was put through the Environmental Review Tribunal (ERT) to revoke MOE approval of the Bow Lake Wind Farm.
Appeals to halt development of the project were not successful.
The project attempted to minimize its environmental footprint by using existing logging roads and areas already harvested for wood products, say the developers.
"With this particular project we incorporated our people's expectations as far as environmental protection. We went over and beyond regulatory obligations. Our [Batchewana First Nation] government set the bar a lot higher with environmental precautions we took before we would provide permits, endorsements and consent for any project," said Sayers.
Twelve bat houses have been erected throughout the area of the project.
"They [bats] have a major important role. And we are monitoring all of the animals — the big and small game, birds and turtles. If we find something that needs to be addressed we will address it," said Sayers.
Sayers said the wind is a spirit and the project has attempted to accommodate those spirits.
"The wind has offered to help us in this instance with the furthering of our role and our obligations and responsibilities. We give thanks for that chinodin for helping us."
(PHOTO: Batchewana First Nation Chief Dean Sayers and Geoff Carnegie, vice-president of BluEarth, pose for a photo op Tuesday at the Bow Lake Wind Farm site near Montreal River Harbour. Kenneth Armstrong/SooToday)