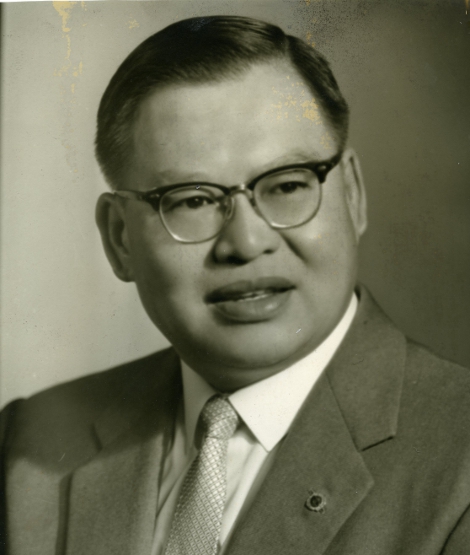 Lewis Hong Chow, who grew up with six siblings in the Victoria Hotel on Pim Street and went on to become a pioneer of jet aircraft and artificial heart technology, has died in Ottawa at age 97.
Also remembered as a business leader and philanthropist, Chow is commemorated in a biographical exhibit at the Canadian Bushplane Heritage Centre, an easy stone's throw from the popular watering hole where he was raised..
"Lewis Chow was an inventor and innovator that we are proud to feature at the bushplane museum," says Mike Delfre, the museum's executive director.
"His accomplishments in engineering and science are renowned throughout the world. He is a true local hero whom Sault Ste. Marie can be proud of," Delfre tells SooToday.
Chow died Friday.
His funeral was held Monday.
Lost his English at age 9
Lewis Hong Chow, the third of seven children, was born in Timmins on May 15, 1918.
His parents were farmers who lost their livelihood in the great influenza epidemic of 1918-19.
The government ordered all their livestock destroyed without compensation, so the Chows decided to start over in Sault Ste. Marie, this time in the hotel business.
The establishment that Saultites would eventually come to love as the Old Vic was a success from the start, due to the ability of the Chows to make every patron feel part of the family.
And it was an honest family.
If you left something in the bar, it would always be there the next day, waiting for you in an envelope with your name on it.
The establishment was so well-managed that when Wayne Gretzky played with Soo Greyhounds, the Old Vic was the only local hotel he and his teammates were allowed to visit.
When Lewis's father died in 1951, the Sault Star described him as "one of the Sault's most-loved citizens."
After a memorial service at Westminster Church, "one of the longest funeral processions in the Sault's history" carried Charlie Chow to his final resting place in Greenwood Cemetery.
No tipping allowed
Tips were never accepted by the Chow family.
At the Old Vic, having you as a friend and patron was gratuity enough.
Lewis's mother died suddenly when he was just seven.
Partly out of an enduring respect for Chinese values and culture, and partly to alleviate the pressure on his father, Lewis and his younger brother King were then sent to China's Canton province for schooling in a community where no English was spoken.
"After two and a half years, Lewis lost his English," Lewis wrote in Engineering a Successful Life, a 2005 autobiography that he wrote reluctantly at the urging of friends, but curiously penned in the third person.
"It was after this two and a half years of absorbing the new culture that Lewis' father summoned him back to Canada to continue his English schooling and eventual professional training, with unstinting paternal support," he wrote.
Flying boats in his back yard
In 1924-25, the Ontario Provincial Air Service was born in a newly constructed hangar on waterfront property immediately adjacent to the backyard of the Chow family's hotel.
A large fleet of Curtiss HS-2L flying boats was stationed there (where the bushplane museum is now based) to spot forest fires.
These early bushplanes proved to be a major influence on the young Lewis.
"This proximity to the wonders of aviation got through to this little boy and and instilled in him a yearning for knowledge and a thirst for basic understanding of how things worked," recalled the late Dr. Alexander B. Sinclair, a lifelong friend.
"He spent hours and hours at the facility when he was growing up," Dr. Sinclair wrote.
Chow himself remembered that whenever he tried to sleep late, "he would find himself rudely awakened by the noise of aircraft engines being tested and by the roar of old Curtiss HS-2L and the Canadian Vickers Vedette flying boats taking off and landing on the St. Marys River."
After supper, or on those days when he wasn't at school, Chow sat on the Government Dock for hours on end, watching the planes.
"This early experience left such an indelible imprint on Lewis that the field of aviation captured his imagination and would become his vocation," he wrote.
Forget about fishing or holidays
In 1941, Lewis graduated from Parks Air College (St. Louis University) with a Bachelor of Science in Aeronautical Engineering.
He returned to Sault Ste. Marie, where he was immediately summoned by George Ponsford, director of the Ontario Provincal Air Service, who told him that the Allies were struggling in World War II and aeronautical engineers were urgently needed.
Forget about fishing or holidays, Ponsford told him.
From his Sault office, Ponsford contacted a friend, the president of de Havilland Aircraft in Toronto, and Lewis was immediately offered employment in that company's engineering department.
Thus began the stellar career of a great Canadian, spanning half a century from 1939 to 1989.
After stints at de Havilland and Noorduyn Aircraft Ltd., Chow served at the National Research Council, conducting examinations of engines from shot-down German aircraft and doing de-icing and anti-icing tests.
Avro CF-100, F86 Sabre
After World War II ended, Chow joined the team developing the Avro CF-100, the first Canadian-designed all-weather jet fighter.
In 1948, Lewis switched to Canadair; where he worked on the design for the F86 Sabre jet, which was powered by a Canadian-made Orenda 3 turbojet engine, placing this aircraft among the world's fastest.
In 1953, Lewis was chief experimental engineer on a Canadair support crew that travelled to the United States to work with aviation legend Chuck Yeager, helping Jacqueline Cochran become the first woman in history to break the sound barrier using Chow's F86 Sabre.
Cochran also set a women's altitude record (47,300 feet) as she dove from that height to break the sound barrier.
And, she established speed records of 653 miles an hour around a 12-sided 100-kilometre course and 670 miles an hour over a 15-kilometre straightaway course.
"I know that without your fine help and co-operation, my records could never have been realized," Cochran wrote Lewis later that year.
Philanthropy, artificial heart
During the 1960s, Lewis served as an executive at Pratt & Whitney Canada in Longueil, Quebec, securing more than $500 million in funding that made Pratt & Whitney the global leader in small gas turbine engines.
Chow's expertise in jet turbines then led him into an entirely new field of endeavour, chairing a research & development team at the Ottawa Heart Institute that investigated the feasibility of using a turbine as a heart pump.
Two decades later, the ideas conceived by Lewis and his fellow artificial heart researchers continue to be used in life-saving medical devices.
Dr. Chow is also known for his charitable work, which specially focussed on health care and the Chinese-Canadian community.
He was an active fundraiser for the Roxboro Northshore Lions Club in greater Montreal, selling Christmas cakes and Mothers Day flowers by the hundreds to his colleagues at Canadair.
His charitable activity included raising money for a new building for the Montreal Chinese Hospital, initially spearheading the drive in the city's Chinese business community, finally serving as general campaign chairman.
Still later, Lewis served as the hospital's president and played a major role in moving the hospital back to Montreal's Chinatown in 1999.
He was also a founding member of the Canadian Chinese Cultural Society of Montreal.
In 1993, Lewis's volunteer efforts were recognized with the Governor General's Commemorative Medal, for "his contribution to his compatriots, his community, and to Canada."
Testimonial dinner
As for his personal life, Lewis's son Edward provided a rare glimpse at a 1989 testimonial dinner recognizing his dad.
"Naturally, you may wonder what it's been like growing up with Lewis Chow as a father," Edward said.
"When I think back on all the special times we're shared together, I realize what a wonderful part he's played in many of my most cherished childhood memories.
"For instance, when I went tobogganing, he would bomb down the hill with me and then tow me back up again for another run.
"When I joined organiized hockey, he cheered enthusiastically at every game even though he was standing outside in sub-zero weather.
"When we went grocery shopping on the weekend, he'd pick up 'free' samples for me in the candy and fruit sections.
"But my most vivid memory concerns him arousing my curiosity for cars.
"One day while he was unloading groceries from the trunk, I decided to see what would happen if I put the car in reverse.
"Luckily, he quickly jumped out of the way, but unfortunately for me, he insisted that all further lessons would have to be postponed for a few more years.
"This immediately dashed my hopes of becoming the first seven-year-old driver in our family."
The following is the official obituary, as released over the weekend by the Central Chapel of Hulse, Playfair & McGarry in Ottawa:
*************************
CHOW, Lewis Hong

Peacefully with Edmond and family by his side on Friday, June 26, 2015 at age 97.
Dearly loved husband of the late Susie. Cherished father of Peggy Tam-Tao (Hardy), the late Linda von Eicken (the late Tom) and Edmond (Susan).
Loving grandfather to Michael, Robert, Andrew, Tamiko, Vanessa, Kimberly, Betina, Kathleen, Daniel, Jacqueline, William and Justin.
Dear brother of Hazel and uncle to many nieces and nephews.
Lewis has his place in history helping American aviatrix, Jacqueline Cochran, become the first woman to break the sound barrier in a Canadair F-86 Sabre jet in 1953. Lewis was proud that one of his beloved granddaughters is named after her.
Lewis' 50-plus years of community service included leadership roles in the building of two Chinese hospitals in Montreal (1965 and 1999), as well as a prominent role at the Ottawa Heart Institute.
Friends are invited to visit the Central Chapel of Hulse, Playfair & McGarry, 315 McLeod Street (at O'Connor), Ottawa on Monday, June 29 from 9 a.m. until service time in the Chapel at 10 a.m. followed by interment at Beechwood Cemetery.
In lieu of flowers, donations to the Canadian Bushplane Heritage Centre in Sault Ste. Marie, Ontario or the Montreal Chinese Hospital would be appreciated.
Condolences/tributes/donations at www.hpmcqarry.ca
613-233-1143
.
*************************