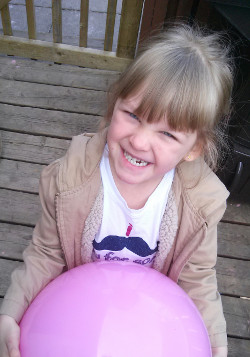 SooToday.com received the following note from loyal reader Megan Fife, who says she has had her faith in humanity restored.
Her daughter Cheyenne (pictured) is also pretty happy about the way things worked out.
*************************
I read a lot of news on SooToday.com.
I also read the comments about how horrible most people think this city is, along with the people in it.
Today, my four-year-old was playing outside enjoying this beautiful day with her big pink ball.
Unfortunately, it got away from her and ended up rolling down the street into traffic.
Needless to say she was horrified when a truck ran it over and it burst.
There were tears - a lot of tears - and I tried to reason with her but she just wanted her ball.
She agreed to come inside and watch a movie to take her mind off what had happened.
A little while later someone knocked at the door and there was a big shiny pink BALL!
She was beaming.
The man said he saw it happen and he just had to get her a new one.
I'm writing today to say thank-you to the man who saved the day.
You are a great person!
And to everyone else, lets stop complaining and start changing things one random act of kindness at a time.
Happy Mom, faith in humanity restored.
*************************