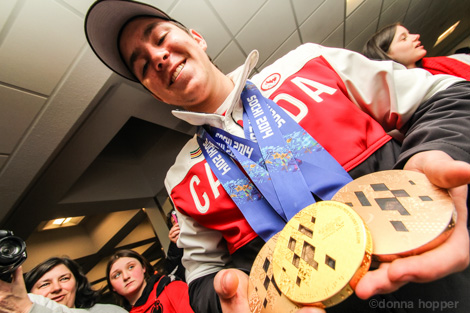 NEWS RELEASE
CITY OF SAULT STE. MARIE
***************************
The Sault Ste. Marie community is invited to join together to celebrate the 2014 Olympic/Paralympic accomplishments of Team Jacobs, Mac and B.J. Marcoux, and Ted Nolan.
A community event will be held at the Essar Center on Thursday, April 3 beginning at 7 p.m. to congratulate and show appreciation for our local athletes/coaches who recently participated at the 2014 Olympic and Paralympic Winter Games held in Sochi, Russia.
Team Jacobs won a gold medal in men's curling at the Sochi Olympics.
Team Jacobs includes: skip Brad Jacobs, vice Ryan Fry, second E.J. Harnden, lead Ryan Harnden, alternate Caleb Flaxey and
coach Tom Coulterman.
Alpine skier Mac Marcoux captured one gold and two bronze medals at the Sochi Paralympics.
Ted Nolan coached the Latvia men's hockey team to a successful showing at the Olympic Winter Games.
Family representatives will attend the April 3 celebration on behalf of Ted Nolan, who is not able to be at the event.
Wear your red and white, bring signs and banners and get ready to cheer.
Event to include: presentations, videos, autograph session, entertainment and free popcorn and pop. Doors open at 6 p.m. – more details to follow.
***************************