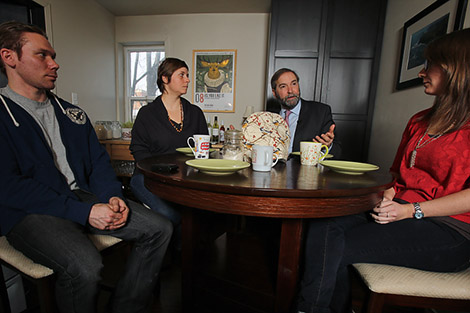 Federal NDP leader Thomas Mulcair kicked off his 'Affordability Tour' in Sault Ste. Marie Tuesday, meeting with a group of local residents at a Queen Street apartment in the morning, followed by a Town Hall meeting held at the Delta Sault Ste. Marie Waterfront Hotel in the evening.
Mulcair (pictured in a photograph taken Tuesday morning by SooToday.com's Kenneth Armstrong with Sault Ste. Marie's Vaughn Alexander, Allyson Schmidt and Robin Sutherland) listened to the group's concerns in their respective roles as a landlord, tenant and entrepreneur.
Mulcair told SooToday.com: "It's been an interesting conversation because some of the things we have been talking about in this affordability tour have come up, like credit card rates, payday loans and in a region like the North it's not a surprise that gas prices are always going to be too high."
"What's interesting too is that we realize there is more the government could be doing to make it easier for people who want to create jobs, who have an entrepreneurial spirit but sometimes face hurdles and the work they are planning to do will help more generally in the community."
Mulcair met with SooToday.com for a brief one-on-one interview at the Delta Tuesday afternoon.
The Official Opposition Leader said he was starting his affordability tour in Sault Ste. Marie because he has enjoyed his visits to the community in the past and wants to maintain dialogue with groups and individuals former Sault Ste. Marie New Democrat MP Tony Martin has built relationships with.
Describing Martin as a "formidable MP," Mulcair said his party is determined to win back the riding from current Conservative MP Bryan Hayes in the next federal election.
Mulcair said that over the past 35 years only 20 percent of Canadians have seen their salaries increase while 80 percent have seen little change and are experiencing increased financial challenges.
"There is a huge problem with income distribution in our country, inequality is growing, and lots of people are having trouble finding decent housing."
Mulcair said the big banks represent one of the root causes in affordability problems for the average Canadian.
"People are getting gouged at the bank machine, getting charged to have access to their own money, getting gouged on credit card rates."
Pointing out that Canadian banks made billions of dollars in profit last year, Mulcair said: "Banks should be required (by the federal government) to offer a 'no frills' credit card at a reasonable rate."
Mulcair criticized businesses which offer payday loans, stating they use loopholes to charge their customers large fees under the term "administrative fees" which would not normally be allowed under Canadian law.
"The federal government has a role to play" in ensuring payday loan companies do business properly, Mulcair said.
Regarding affordable housing, Mulcair did not go into specific detail, but did state an NDP government would provide "incentives" for developers to build affordable housing units for those in need of them.
Speaking to the issue of gasoline prices, Mulcair said: "There is huge collusion among the oil companies, and while prosecutions take place at the individual gas station owner level, it's got to start at the top," adding a federal Ombudsperson should address cases involving rising gasoline prices.
How would a federal NDP government tackle job creation?
"We will work with small and medium sized businesses and work with the provinces in providing subsidies to create jobs for young people."
While not committing to the idea of injecting stimulus funding into the economy for job creation, Mulcair said: "We can't let the market take care of itself…it's time to understand we can't rely solely on extractive industries like mining and the Oil Sands," stating government has a role to play in job creation.
Because of age and ongoing natural disasters, infrastructure development and renewal has also become a key issue across Canada.
To that, Mulcair stated: "When we get elected we'll transfer more of the existing federal gasoline tax to the provinces and down to the municipalities for infrastructure."
"Provinces and municipalities in Canada are responsible for 50 percent of infrastructure costs but have only eight percent of the tax base…economically that's not sustainable and it isn't surprising to see things crumbling."
Meanwhile, Sault Ste. Marie City Council has identified the need for a deep water port facility to be constructed for the good of the private sector, most notably Essar Steel Algoma and Tenaris Tubes.
While the private sector would clearly have to step forward with its share of funding for that $120 million project, Mulcair said: "Ports are a federal responsibility and we've got to get back to maintaining and caring for those ports…the project Sault Ste. Marie is interested in should receive substantial aid, and this is the type of project we would be looking at (as a government)."
Mulcair urged Sault voters (and the nationwide electorate) to vote NDP in the next federal election, pointing to spending scandals that have stuck to both Liberal and Conservative governments.
"The primary interest we're going to be serving is the public interest, and we can be trusted to do it," Mulcair insisted.