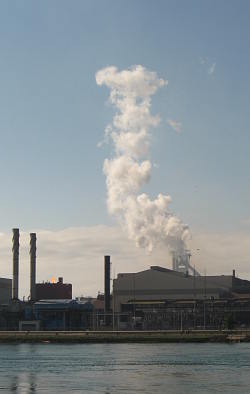 Sault Ste. Marie "must stop studying and start implementing" plans for an improved regional harbour, Sudbury-based KPMG consultant Oscar Poloni told City Council Monday.
Poloni made the pitch for Council to approve next steps in moving the massive concept forward, joined by Transportation/Infrastructure Committee (TIC) Chair Don Mitchell.
Poloni pointed out the need for a new harbour (to be located near Essar Steel Algoma (shown) and split in two parts, one for the steelmaker and the second for other stakeholders such as Tenaris Algoma Tubes), the cost of its' construction (approximately $120 million, in government and private sector funding), as well as what the economic price would be if the project does not go ahead.
The City itself has identified development of a new harbour facility as Sault Ste. Marie's greatest infrastructure need, and Council approved taking those "next steps."
Among them are discussions with Essar Steel Algoma, which has already expressed its' support for the harbour concept, discussions with all other potential harbour users, consultations with First Nations, and highlighting the need for a harbour in applying for government funding.
The report from KPMG states current shipping facilities are in poor operating condition and in a state of disrepair.
It highlights the need for the harbour to help companies, especially Essar and Tenaris, to considerably ramp up their production in the future when the current steelmaking slump turns around, and ship out their goods. New businesses, such as aggregate, slag and salt transport businesses, would also benefit.
Poloni told Council that, along with private sector funding for the $120 million project, there are government funding envelopes available, such as the federal government's Building Canada Fund and provincial funding through the Northern Ontario Growth Plan.
The report states the harbour would create or retain 600 jobs.
"This is the economic rationale," Poloni told Council, pointing out the $121 million expenditure would soon pay for itself in increased production and jobs.
He emphasized that without the harbour, firms such as Essar and Tenaris would be left behind in their quest to increase production, and the community would suffer a loss of jobs.
When questioned by Ward One Councillor Paul Christian if low water levels are a concern, Poloni agreed that "water depths have been an issue," but said that only adds to the urgency of beginning the project.
"If you do dredging now, you'll be farther ahead," Poloni said.
Mitchell told the media after gaining Council's approval to proceed with the project's next phase "the price we're going to pay (if the harbour is not built) is loss of jobs."
"If we cannot expand the dock, then people at Tenaris and other companies are going to be displaced, and if they're displaced that means no growth from their standpoint. It says very clearly in the report that Tenaris is looking for a 25 to 30 percent increase, or even more, for their operation. We have to understand that in this region we go up and down according to the steel industry, or in the case of Tenaris the oil industry, but if we're not ready for the upside when it comes, we won't have the capacity to do it."
Mitchell said "Essar is on side, we now have to design that port and decide what Essar needs out of this."
Mitchell added "environmentally, some things have already been done in the area, I think we can proceed. The biggest thing is to now sit down and get the model that has to be designed to operate the public port along with the Essar port."
As for the whopping $120 million cost, Mitchell said "over the next two to five years, we're going to spread it out for the government. We'll say to the government, to Essar and everyone else 'guess what guys, we're talking $20 million a year, not $120 million at one time. It's the spreading out that makes it an easier pill to swallow."
Mitchell said the estimate of 600 jobs created or retained is "low to medium," adding there could be a great deal more employment created through the harbour.
"We do know if we don't do it, we could lose 300 to 500 jobs."
An enthusiastic Mitchell told reporters he is confident Sault MP Bryan Hayes will successfully spearhead the attempt to win federal funding for the harbour, adding Industry Minister Tony Clement has "spoken openly" about the harbour being a worthy project.
"I feel optimistic. I hope within two years we're ready to start…hopefully we'll be shovel ready within two years," Mitchell said.