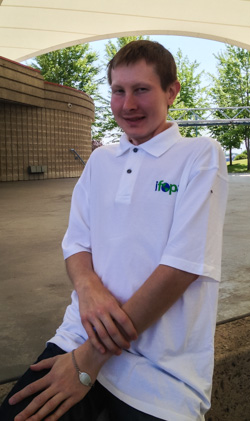 Sault Ste. Marie's Ian Brodie is one of only 15 people in Canada diagnosed with Fibrodysplasia Ossificans Progressiva (FOP).

The debilitating genetic progressive disease, for which there's no treatment or cure, turns traumatized connective tissue, tendons, ligaments and muscle into bone.

There are only approximately 800 known cases world-wide.

The 27-year-old was first diagnosed when he was nine years old by a physician at Toronto's SickKids Hospital, Brodie told SooToday.com.

He was misdiagnosed a number of times prior despite suffering from flare-up and malformed toes, the earliest and most common indicator of FOP.

A number of things can trigger a flare-up, including bumps and falls, stress, and even weather conditions, he said.

Because of the rarity and severity of FOP, he travels often for medical purposes and has been under the care of Dr. Frederick S. Kaplan, the Isaac and Rose Nassau Professor of Orthopaedic Molecular Medicine and Chief of the Division of Molecular Orthopaedic Medicine at the University of Pennsylvania School of Medicine.

He also must visit a dentist in London, Ontario who's familiar with the disease and treats others affected by FOP.

While Brodie remains positive and relatively independent - he's been employeed at Canadian Tire for the last seven years - casual observers will notice that he's unable to turn is head, his spine is very rigid and it appears he's lost the use of his left arm.

"It's essentially affecting my whole body, so everything from dressing and grooming to feeding myself becomes a challenge," Brodie said. "You end up having to rely more so on extra personnel to help. Thankfully I have a great family that helps me with those needs."

"My colleagues are very good to work with and when I need a hand, they're not shy to help me out," he told us.

Brodie's mother Theresa said the family was in shock when they first learned of his diagnosis.

"The first time we went to a FOP convention, we saw how his disease would progress, and we knew there was no cure," she said. "It was like looking into the future to see exactly what was going to happen to him. That was one of the worst things that we ever had to deal with."

She was proud to tell us that Ian never complains about his condition and his siblings are extremely supportive.

The youngest of four children, Ian was never babied or given special treatment, she said, and the family barely notices the progression of his condition until he's suddenly unable to perform a task he could previously.

"We always felt if he could do something on his own, then he should as long as he knows his limitations," she told us. "He's always been very good at that, because anything can trigger a flare-up and he could have been in a wheelchair by now if he hadn't paid attention to that."

Ian and his family will be at the Roberta Bondar Pavilion this Saturday, August 9 for the 3rd annual Sault Ste. Marie 5k Run/Walk to Cure FOP.

He wants readers and potential participants to know that he's more than willing to discuss his condition and answer any questions.

Registration for the event begins at 9 a.m. with 100 percent of the proceeds going directly to FOP research.

In addition to raising awareness of Brodie's condition, the event began in honour of Brooke Connell of London, Ontario who was diagnosed with FOP in 2007 when she was 6 years old.

Brooke's mother, Carrie Connell, is the president and founder of the Canadian FOP Network and was born and raised in the Sault area.

For more information about this weekend's event, please click here.

To learn more about Fibrodysplasia Ossificans Progressiva, visit the Canadian FOP Network website.

To see an in-studio interview with Ian Brodie and Local2 anchor Jasmyn Rowley, please click here.