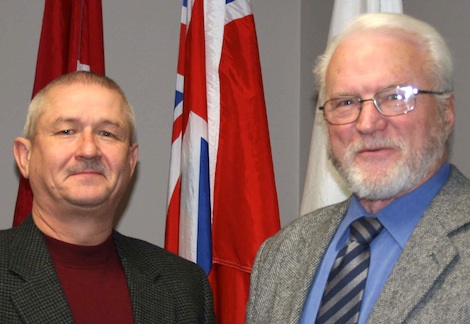 NEWS RELEASE
CONSEIL SCOLAIRE
PUBLIC DU GRAND
NORD DE L'ONTARIO
*************************
Elections at Conseil scolaire public du Grand Nord de l'Ontario
SUDBURY - At its organizational board meeting held on Saturday, December 1, 2012, in Sudbury, Conseil scolaire public du Grand Nord de l'Ontario trustees re-elected Jean-Marc Aubin as board chairperson and Claude Giroux as board vice-chairperson.

Jean-Marc Aubin has an extensive background in education.
Best known for his community and political commitment, Mr. Aubin has been an advocate of Francophone rights for over 22 years.
Recipient of the Jean-Robert-Gauthier Award, Jean-Marc Aubin continues to promote and devote himself to improving French-language public education in Ontario.
Mr. Aubin is pleased to be able to work with enthusiastic trustees who are dedicated to providing all students with a learning experience that is second to none.
Thanks to his knowledge and expertise, CSPGNO will continue to grow, pursue innovative educational initiatives and play a leading role in the advancement of French-language public education.

Claude Giroux has been a board trustee with CSPGNO since 2000.
Besides his work and family obligations, Claude Giroux has been an active member of the school council at École publique Foyer-Jeunesse in Hanmer and has also served as school council chair at École secondaire Hanmer.
Mr. Giroux has demonstrated great dedication and interest in the education sector.
As board trustee, he has been a member of numerous committees such as Board Policy and Guidelines, Finance and Plant, Human Resources and Special Education Advisory Committee (SEAC).

Conseil scolaire public du Grand Nord de l'Ontario has 12 trustees and two student trustees.
Recognized for its keen sense of innovation and openness to the world, CSPGNO offers a French-language public education of the highest quality in 10 elementary schools and eight secondary schools in the communities of Markstay, Noëlville, the City of Greater Sudbury, Elliot Lake, Dubreuilville, Marathon, Wawa, Manitouwadge and Longlac.
At CSPGNO, every child has the room to grow; there is a place for everyone!
*************************