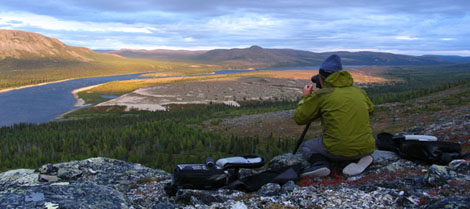 Thanks to the generous support of Joe's Sports and Quattra, local celebrity environmentalist and Sault Ste. Marie Walk of Fame inductee Gary McGuffin is checking in from spots along the way on the latest expedition with the Wilderness River Expedition Art Foundation.
This year's expedition will paddle and explore the Noatak River in Alaska.
SooToday.com visitors are invited to share questions for McGuffin in the comment section below.
Here is the latest on-the-spot update from McGuffin.
************************
Thursday, August 23
It's Day 17 on the artists' expedition on the Noatak River in Alaska and McGuffin reports they've called it official laundry day.
They're on an island just south of where the Nimiuktuk River flows into the Noatak.
"We've decided to take a break today and catch up on our laundry and our log books," he said.
The trekkers have spread out around the island for now, engrossed in their own field studies, journals and reflections on their experiences so far.
Later in the day, Sandy Scott will be doing a painting workshop with the group, said McGuffin.
"She's going to teach us about painting bird wings," he said.
It's going to be very useful to help group members with their binoculars identify the many, many birds they spot, often from a great distance and silhouetted against the near-perpetually light sky.
"We've seen red-throated loons, arctic loons and today I had a little bit of a memory of Northern Ontario when, first thing this morning, I heard a common loon," McGuffin said. "It was the first common loon we've encountered on the trip. It was about a half mile away and we were looking at it with our binoculars."
Another important task on today's to do list is to check on the food supplies.
"We're doing a food inventory just to make sure we've got enough food to last us to the end of the trip and maybe a little bit more," McGuffin continued.
That would be especially important considering where they are - hundreds of miles from the nearest grocery store and on the tundra where not much grows that could serve human needs.
There appears to be plenty for grizzly bears to eat, though.
"We've run into a lot of grizzly bears," said McGuffin. "This is almost like a grizzly bear alley, here. Everywhere we look there's bear tracks going up and down the river bank and back up onto the tundra."
It's also a fun place for muskoxen to hang out and Vogue for the camera.
"We had a very good meeting with a muskox, yesterday," he said. "As we paddled by a big old muskox was making its way down to the shoreline. We just drifted by and he got into all these great positions. He looked straight at us and we had a really nice close up view."
The sun has finally come out for the first time in about nine days and McGuffin said he feels like there's a bit of a weather change for the better.
"We're seeing a lot of colour change as the blueberry bushes are starting to change and we're seeing some amazing green contrasts," he said. "We're actually seeing some of our first larger tree species - they call them cotton-woods here. We saw a few stands where they're about 15 or 20 feet high. They're the biggest trees we've seen in a couple of weeks."
*************************
Earlier SooToday.com coverage of this story