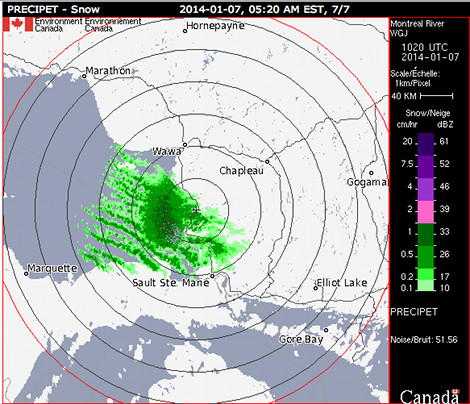 Radar image 5:20 a.m.
Current conditions:
Blowing Snow.
Minus 20.1°C with wind chill, minus 23.2
Wind: WSW 32 km/h Gust: 46 km/h
Visibility: 4km
*************************
ENVIRONMENT CANADA
SEVERE WEATHER BULLETIN
*************************
5:14 AM EST
Snow squall watch continued for: Agawa - Lake Superior Park
Snow squall watch changed from snow squall warning for: Sault Ste. Marie - St. Joseph Island
Snow squalls possible today into Wednesday.

Snow squalls off of Lake Superior may briefly affect northern parts of the Sault Ste Marie area today, and may drift into regions north of Montreal River Harbour tonight into Wednesday.
If this happens expect local snowfall amounts up to 15 cm, as well as sudden very low to nil visibility in bursts of heavy snow and blowing snow.
*************************
Wind chill warning for: Manitouwadge - Hornepayne - White River - Dubreuilville - Wawa - Pukaskwa Park - Agawa - Lake Superior Park - Timmins - Cochrane - Iroquois Falls - Chapleau - Missinaibi Lake - Gogama - Foleyet - Kirkland Lake - Englehart - New Liskeard - Temagami
Wind chills from minus 40 to minus 45 this morning and again tonight over regions from Hornepayne to Marathon and west.

Another blast of Arctic air has invaded Northern Ontario.
Widespread wind chill values of minus 40 to minus 45 are expected into Wednesday.

Conditions will begin to moderate slowly Wednesday.
Extreme caution is advised for people heading outdoors. Exposed skin may freeze in less than five minutes.
*************************