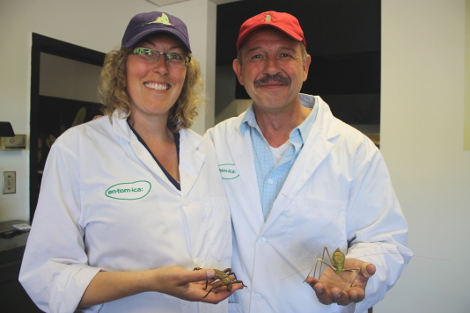 Dr. Amanda Roe and biologist John Dedes (pictured with two insect friends) were on hand for the official ribbon-cutting ceremony at Entomica Wednesday.
Entomica is located at 35 Canal Drive, in the same building as the new Mill Market.
Wednesday's ribbon-cutting followed Entomica's soft launch in June.
Entomica aims to provide visitors and tourists of all ages with an educational, hands-on look into the fascinating world of insects.
June's soft launch attracted a great deal of interest from visitors, including 400 children on Algoma District School Board field trips, Roe said.
There was no shortage of visitors or fascination from young people and adults alike Wednesday.
Visitors, under supervision, were welcome to handle various types of insects at Entomica during Wednesday's official opening.
"People are just looking for some place to take their kids and give them a really unique experience, which is something Entomica provides," Roe said to Wednesday's audience.
"This isn't a zoo where all the creatures are behind glass, behind bars where you just look at them, you get the opportunity to interact one-on-one with these fascinating creatures," Roe said.
Entomica's professional staff wants to inspire young people to get involved in the study of insects.
Roe said she was fascinated with insects as a child and forged ahead to make a career for herself in entomology, and is now employed full-time at Entomica.
"We've heard it time and time again how the people of this city are sick and tired of having to travel to places like Sudbury and Toronto to bring their children to enjoy a day at some type of science centre," Dedes said.
"This is an opportunity for us to do something here in our own backyard in our own community for a change and that's why we're thrilled with this whole endeavour."
Dedes, a biologist and Entomica CEO, told SooToday.com he was inspired to start up Entomica after meeting with Mill Square CEO Justus Veldman.
Veldman runs the new Mill Market and is dedicated, as Mill Square CEO, to transforming the old St. Mary's Paper buildings into a multi-purpose culture and tourism facility known as Destination North.
The ultimate goal for Entomica is for it to eventually occupy Mill Square's Pulp Tower building as a multi-storey interactive local tourist attraction, focussing on the world of insects.
Expertise has been brought in from Science North to help bring that project into reality.
Entomica, at the current location on Canal Drive, is open six days a week, Tuesday through Friday 11 a.m. to 8 p.m., Saturday 9 a.m. to 6 p.m. and Sunday 11 a.m. to 6 p.m.
"It's already become a destination for people walking down the boardwalk, for tourists," Dedes said.
Admission is $2 per person, $5 per family.
"This summer when you're looking for things to do, come down and see the insects…that's the way Science North happened in Sudbury," Dedes said.
"Places like that were created because of the support they garnered from the community."
Dedes told us an enormous amount of effort has gone into obtaining insects from various scientific centres and a great deal of work will go into maintaining and expanding Entomica's stock of insects.
"It's not your typical butterfly exhibit…there are some really weird, interesting insects that people haven't seen before in their lives.
"We wouldn't be alive if it wasn't for insects," Dedes said.
"Insects pollinate most of our plants and fruits and vegetables, certain grains need insect pollination, the entire ecosystem would collapse without them, and they serve as a food supply for birds and animals," Dedes said.