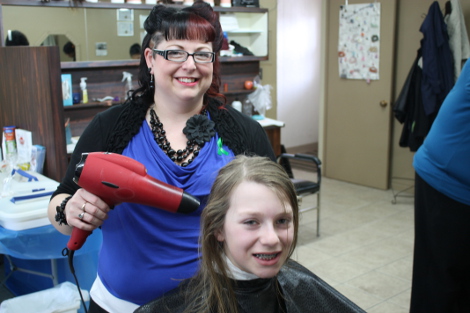 Catherine Chapman, owner and operator of Catherine's Hairstyling and Barbershop, is dedicated not only to helping her customers look great, but also, she and her staff devoted their time and skill to a very good cause Saturday.
Catherine, shown here with customer Natalie Serre, held her annual Kutz for Kidneys Fundraiser for the Canadian Kidney Foundation from 9 a.m. to 4 p.m at her shop at 373 McNabb Street.
The salon was busy, and Catherine and her staff looked well on their way to reaching their fundraiser target.
Catherine has operated her business at her current McNabb Street location for six years, and this year marks the Fifth Annual Kutz for Kidneys, with 100 percent of the funds raised from haircuts and styling Saturday going to the local branch of the Canadian Kidney Foundation for research purposes.
Catherine told SooToday.com their has been no kidney disease among her family and friends, but "when I decided I wanted to do something for the community, we had a staff meeting and at the time one of my staff members was a really good friend of Marilyn MacBeth from the Kidney Foundation."
"Out of three different charities, I did my research and chose the Kidney Foundation, for the primary reason the funds stay in Sault Ste. Marie and help local people."
Catherine told us "100 percent of the proceeds from today's haircuts go to the Kidney Foundation. We're at roughly a total of $4,000 dollars raised over the years. We average roughly $1,000 dollars every year from donations. We have our baking table as well, to give you something to enjoy while you're waiting, but also raises extra funds for the Kidney Foundation."
Catherine usually holds the Kutz for Kidneys event every March, to coincide with the Canadian Kidney Foundation's Kidney Health Month, but for personal reasons had to push this year's fundraiser back to April.
Still, she adds, nothing would stop her from holding the fundraiser this month.
"Absolutely not!" she smiled.
In our photo gallery group shot, from left to right are hairstylist Casey Barry, Catherine Chapman, Kidney Foundation Campaign Assistant Marilyn MacBeth, hairstylist Catherine Moore, Kidney Foundation Campaign Coordinator Penny Marquis, and hairstylists Jen Belsito and Jen Knox.