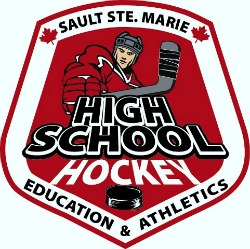 The St. Mary's Knights are Sault Ste. Marie's high school hockey champions.
After a regular season that saw them win all 20 games, the Knights capped off their local playoff run with an 8-0 whitewash of the Korah Colts on Friday night at the John Rhodes Community Centre.
The victory gives the Knights a 3-1 series win over the Colts in which they gave up just one goal, outscoring their opposition by a 15-1 margin in the four-game series.
Michael Pelland was in goal for the shutout for the Knights, his third of the series. Pelland was in goal for the Knights series-opening 1-0 victory along with Wednesday night's 6-0 blanking. Pelland started all four games for St. Mary's.
In Friday's win, the Knights had seven different goal scorers. Jason Uhl, who was named the recipient of the Art Jarrett Memorial Trophy as playoff MVP, had two goals and an assist in the win while linemate Jaron Rowe added a goal and two assists. The third member of that line, Erik Paradis, had a goal and an assist in the win.
Matthew White, Cody Poirier, Jake Lewis and Mitch Robinson also scored for the Knights in the series-clinching victory. Michael Avati, Alex Morin and Eric Lemieux had two assists each for St. Mary's.