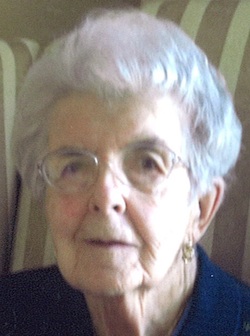 SooToday.com has received the following notice from the Northwood Funeral Home Cremation & Reception Centre regarding the passing of a longtime resident who will be fondly remembered by many for her decades of dedicated service as the city's librarian:
*************************
PUNCH, Katherine Loretta (Kay), 96, of Sault Ste. Marie, Ontario, passed away peacefully on Saturday, November 10, 2012, at Algoma Residential Community Hospice.
Kay was born in Lethbridge, Alberta on September 23, 1916.
She graduated from University of Toronto Library School in June of 1938.
Kay worked as Librarian for the City of Sault Ste Marie for over 40 years.
She enjoyed writing, gardening and most importantly family.
Kay is survived by her children Mary Jane Yorke (John), Suzanne Olsen, James Punch (Susan), ten grandchildren, fifteen great-grandchildren, her brother-in-law James McIntyre, and many nieces and nephews.
Kay is preceded in death by her husband, Wilfred, her son Michael, her sister and best friend Mary McIntyre and her brothers Vincent Gallivan, Edward Gallivan and Francis Gallivan.
Visitation will be held on Thursday, November 15, 2012, at Northwood Funeral Home Cremation & Reception Centre (942 Great Northern Road 705-945-7758) from 12:00 noon until 1:30 p.m. followed by a Memorial Mass at Precious Blood Cathedral at 2:00 p.m. with Monsignor Victor Amadio officiating.
Inurnment will take place at Holy Sepulchre Cemetery following the Memorial Mass.
It would be appreciated by the family that in lieu of flowers memorial donations be given to ARCH or the Alzheimer's Society.
The family of Katherine wishes to thank the staff of ARCH for the loving, gentle care they gave in Kay's last days and hours.
*************************