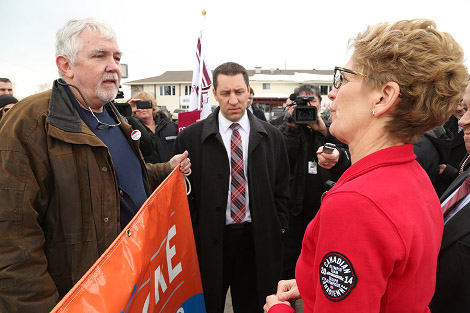 Kathleen Wynne is on a tour of Sault Ste. Marie today and SooToday.com photojournalist Kenneth Armstrong has been following along to see what the Ontario premier has been up to.
Wynne, accompanied by Sault MPP and Natural Resources Minister David Orazietti and Northern Development and Mines Minister Michael Gravelle, dropped by the Soo Curlers' Association over the noon hour, where the premier hit the ice with Canadian Olympic gold-medallists Team Brad Jacobs and met with Paralympic gold-medallist Mac Marcoux.
Members of the Ontario Nurses' Association (ONA) and UNIFOR rallied outside Orazietti's office this morning and the premier was greeted by protesters outside the curling club.
Wynne's next stop was F.H. Clergue French Immersion, where she visited with students in Valerie Kates' Grade 1 class.
The premier, who is under fire over unproven gas plant scandal allegations, is expected to make a funding announcement at 3:15 p.m. today at Algoma University's George Leach Centre.
NDP MPPs reportedly walked out of the provincial legislature earlier today in protest over Wynne's absence during Question Period.
Watch for updates from this afternoon's press conference, where Wynne is expected to speak with media.
(David Harasymiw, an area registered nurse and chair of the Sault Ste. Marie Health Coalition, speaks to Premier Kathleen Wynne outside the Soo Curlers' Association while Sault MPP and Natural Resources Minister David Orazietti looks on. SooToday.com/Kenneth Armstrong)
*************************
More SooToday.com coverage of the Premier's visit on Monday