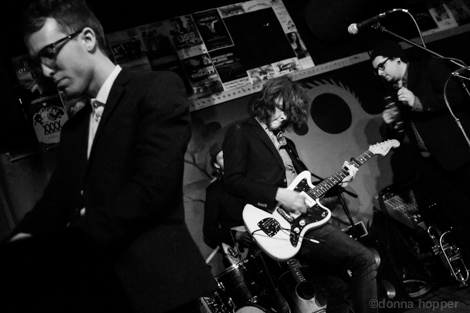 A packed house of family, friends and fans helped Kalle Mattson celebrate his latest and critically acclaimed release, Someday, The Moon Will Be Gold at Loplops this past weekend.

Recently returning to Canadian soil following his first-ever and highly successful European tour in support of the 12-song release, Mattson happily reported to SooToday.com that more than half the overseas shows were sold out or over-sold.

Many of his European show-goers were very familiar with the music, he told us, thanks in no small part to the band's free downloads, pre-release album streams on a variety of websites including The New York Times and Exclaim, and a number of music videos.

"I never really realized how far things can reach. It was amazing to see that [my music] had reached that far."

Someday, The Moon Will Be Gold, Mattson's full-length follow up to 2012's Lives in Between EP, is a vividly personal recording that explores deep loss as much as it reflects great hope.

Produced by The Wooden Sky's Gavin Gardiner, the album conveys lyrical maturity and rich songwriting one might expect from someone twice his age.

"I wrote this record when I was living in my childhood home [in Sault Ste. Marie] for the first time since my mother passed away," he explained. "It's about what I was going through, which was essentially dealing with what I didn't deal with when I was 16 and she died. I don't think any 16-year-old is ready to deal with that."

The 23-year-old said he penned the album without apprehension.

Trepidation only came once the material became available for public scrutiny.

"I was afraid that if the record wasn't received well, it would be like people were dismissing a big part of myself," Mattson told us. "It wasn't such an intellectual thing to write a record about that experience. It was instinctual. I felt like I needed to write about something that meant something to me and something that I felt mattered."

A recent review of Someday, The Moon Will Be Gold from Jamieson Cox of Pitchfork - the equivalent of this generation's Rolling Stone magazine - should put his fears to bed.

The Pitchfork review, which awarded the record a score of 7.6/10, states in part: "…his sound has never been this fully realized, and he has never drawn himself in such clear, unflinching light… Many of the finest moments are borne out of his smart deployment of orchestration, whether it's helping to kick down a set of doors… or blooming around soaring clusters of harmonies and crashing percussion… Mattson's tasteful use of horns as exclamation points stands out at a time when artists across genres have turned to brass as a signifier of class, slathering it over their compositions to indicate they're writing 'serious' music. In Mattson's hands, it's about heart."

"They have ruthless reviewers. A 7.6/10 from their site is like a 9/10 anywhere else," Mattson smiled.

"It's great that people are listening to the record, understanding what it's about, and hopefully relating to it in some way. It's a personal record, but I think the songs are oblique enough that everyone can find something to like and relate to," he continued. "It's great that it's getting good reviews, but I'm more excited that people are listening to it and 'getting' it and hopefully enjoying it."

Mattson's current Canadian tour will make stops in Calgary, Vancouver, Kelowna, Regina, Winnipeg and others before returning to Sault Ste. Marie for an all-ages appearance at Cafe Natura (75 Elgin Street) on March 22.

Someday, The Moon Will Be Gold is available for purchase from his official website, at live performances, his BandCamp page, and iTunes.