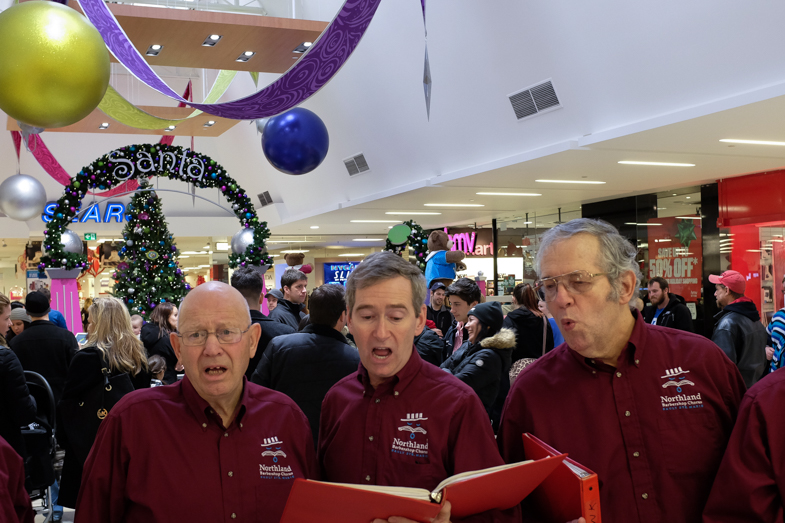 The Northland Barbershop Chorus did a performance of a cappella Christmas carols in front of Sears in the Station Mall on Saturday.
The group's music director Bob Shami said they've been doing performances every last Saturday before Christmas at that location since the '80s.
"I've been a member of this group for 32 years and I think we were here when I started," said Shami who started in 1982.
The main performance of about 30 men went from 1 - 1:30 p.m. but the group was at the mall the whole day singing in smaller groups as they manned a donation Kettle for the Salvation Army.
"We rehearse at their hall every Monday night and they are… fabulous to us so this is our way of repaying them," said Shami.
"Mind you it's the Saturday before Christmas, but in the entire city they tell us that this kettle on this day is the one that gets the most donations and they think its because of us and our history of coming here. People recognize that."
This year the group was honored with a special appearance by a fully blind retired therapy dog named Tashi who charmed mall passersby at the donation kettle.
The all-male a cappella group started in 1961 and does mostly charity performances with the exception of their annual show in April.
Shami said this year that concert will be on April 8 and will also feature the world championship-winning quartet Vocal Spectrum from St. Louis, Mo.
(PHOTO: The Northland Barbershop Chorus sang and manned a donation Kettle for the Salvation Army on Saturday at the Station Mall. Photo by Jeff Klassen for SooToday)