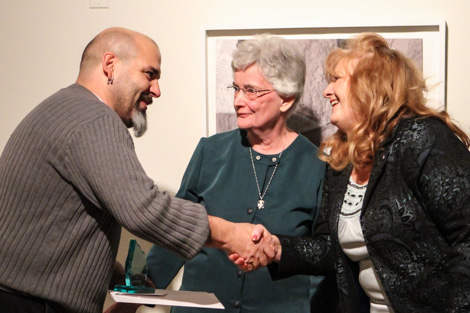 Local sculptor Phil Jones was all smiles Friday evening after his name was announced as being the recipient of Best in Show during the first annual Winter Festival of the Arts at the Art Gallery of Algoma.

He's pictured above with event Chair Nora Ann Harrison and Gallery Director Jasmina Jovanovic.

A total of 97 artist from the Sault Ste. Marie area submitted work of all mediums to the juried exhibition and sale.

Judged by a jury of three peers, Karen Nisbet, Sherie Gladu, and Jonathan Dewar, three awards were presented as well as a number of honourable mentions.

Special honourable mention

Nine-year-old Rowan Gordon - Memories of Tree

Honourable mention

Ken Hagerman - Gros Cap
Maria Chilleli - Stump of Irony
Lena Olsson - The Flower Within
Nora Ann Harrison - Growing Up, Finding Freedom
Gabriella Benitez - Arquitecual 10

Award winners

Third place - Taimi Poldmaa - Old Growth
Second place - Ashley Shantz - Untitled
Best of show - Phil Jones - Warriors of the Wind

Carving in soapstone for approximately 10 years, Jones told SooToday.com that his Warriors of the Wind took him two months to complete.

"I do a lot in the Woodland style," he said, explaining the features of the piece. "This represents the coming together of the man spirit and the eagle spirit."

Jones currently has work available for purchase at the Art Gallery of Algoma Gift Shop, the Artist Alcove (1340 Great Northern Rd.), and the Tippy Canoe Gallery in Bruce Mines.

To see examples of his work, please click here.

The Winter Festival of the Arts show and sale will remain on exhibit at the Art Gallery of Algoma until Saturday, January 18.