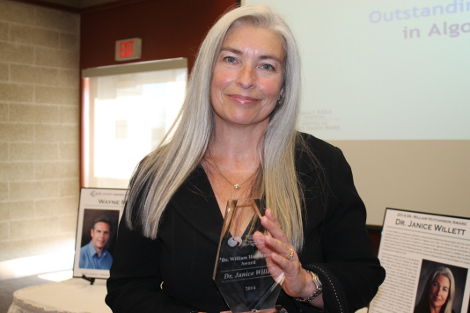 Dr. Janice Willett (pictured), a Sault obstetrician and gynecologist, was presented with the 2014 Dr. William Hutchinson Award at the Sault Area Hospital annual general meeting held Thursday evening.
The Dr. William Hutchinson Award is presented each year by the SAH board of directors in recognition of distinguished contributions to health care in Sault Ste. Marie and Algoma.
Willett is known not only for being a compassionate professional who has practised medicine for 25 years, but also as a leader and educator dedicated to quality healthcare.
Willett has been involved with many local, regional and provincial committees that deal with medical care, and has served as Ontario Medical Association president, Algoma West Academy of Medicine president, medical director of the maternal child program at SAH, participated in physician recruitment efforts, and is currently Associate Dean of Faculty Affairs and Continuing Education and Professional Development for the Northern Ontario School of Medicine.
Willett came from Elliott Lake, and told Thursday's SAH annual general meeting audience that being a northern Ontarian has led to her passion for providing quality healthcare services.
"I grew up in a community where healthcare and human resources were pretty slim at times and I noticed from the time I was in high school we had challenges, and I wanted to do what I could to make that difference for our community."
"That took me away from home because you have to be around Queen's Park to change the way we do things."
Of Sault Area Hospital, Willett said "I think it's critical we support the senior management team at the hospital."
"In 10 years we came from a time when we would go to a meeting and hear 'we have no authority to change this,' to where we want everyone to play a role in changing patient care in our hospital."
"A lot of that is due to the leadership of the senior management team," Willett said.
"Staff work overtime to make patients comfortable in very uncomfortable places like stretchers in hallways, and we certainly hope our government hears our need to move forward in changing that (by providing long-term care beds)."
Thursday's SAH annual general meeting also marked the presentation of the 2014 iCare Award to recipients in the SAH volunteer, employee and physician categories.
Jim Aquino received the iCare Award for six years and 2,000 hours of service as a volunteer at SAH.
Wayne Marion, an activity technician, received the iCare Award in the SAH employee category.
Dr. Sharon Buehner received the iCare Award in the physician category for her compassionate work in palliative care.