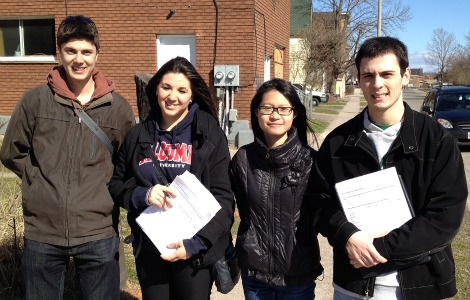 Pictured from left: Marc DeAmorim, Sierra Spadafora, Susan Guo and Brandon Gribelli
James Street Neighbourhood Project - A Preliminary Study for the Revitalization of Jamestown is continuing with surveys on people's thoughts about the neighbourhood.
Algoma University marketing students have been going door to door in the James Street area community with surveys for residents to fill out.
As SooToday previously reported the surveys were suggested at a community forum meeting held in February.
The survey covers a range of topics from street lighting, overall feeling of safety to animal control and vacant houses.
Surveys need to be completed and dropped off at the Soup Kitchen Offices by this Friday at 3 p.m.
You can also complete the survey online by clicking here.
The project is being spearheaded by Algoma University and the Community Soup Kitchen.