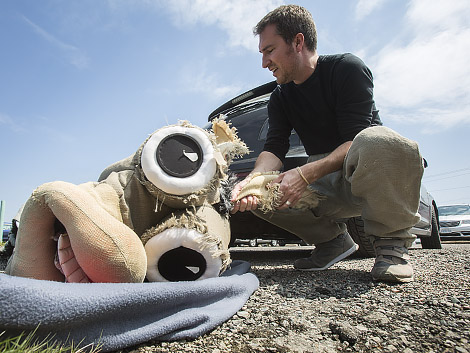 A man in a burlap donkey suit is on a one-man crusade for the rights of people wearing two-person costumes, or at least that's what he claimed when he stopped in Sault Ste. Marie for a photo-op on Monday.
Toronto-based filmmaker James Brylowski's short film "A Mile in these Hooves" was selected for the Yorkton Film Festival in Yorkton, Saskatchewan.

Instead of simply travelling by plane to the festival, Brylowski decided to travel by land, shooting photos and video while in the suit at key landmarks along the way.

This created an additional opportunity for Brylowski to promote the film along the way, choosing to start a tounge-in-cheek campaign in support of people who wear two-person costumes.

"I want to raise awareness for people in two-person costumes, I want them to come out and not be afraid to say who they are," quips Brylowski, who prefers assuming the back end.

"There are a lot of health benefits to being in a two-person costume, including cardio. You develop a very strong bond with the person in the front. You're in very close quarters so it is a good team effort and trust exercise," said Brylowski.

Although he is travelling alone, Brylowski finds people to assume half of the donkey costume at many of his stops.

The project began filming in May of 2013, travelling from Toronto to Los Angeles by minivan with a total crew of 6, said Brylowski.

The film follows the story of two brothers who decide to wear the costume on a trip by foot from Toronto to Los Angeles,

"It sounds like a goofy film, but it's actually quite dramatic and intense. It's a story of this relationship falling apart between these two brothers but they just happen to be inside this two-person donkey suit," said Brylowski.

Brylowski utilized his background as a comedy writer and landscape photographer to create the project, where the absurdity of two people in a donkey suit juxtaposed against majestic and iconic landscapes.

Shooting locations for the short film included, Arches National Park in Utah, Monument Valley in Arizona, as well as Joshua Tree National Park and Venice Beach in California.

The hot weather in the desert locations presented its own challenge to the filmmaker, crew and especially cast members who wore the costume.

"We had the stand-ins who were inside the costume with frozen towels around their neck, the shot would be 10-seconds long and you are out, under the umbrella and have to drink a gallon of water," said Brylowski.

The two-person costume was created by Jamie Shannon, who has also created iconic puppets seen on various children's programs on YTV and Disney Channel, among others.

The costume has taken quite a beating, it has suffered sun-damage, been dunked in the Pacific Ocean and made the trip from Toronto to Los Angeles and back but is still surviving, said Brylowski.

His short has been nominated for two awards at the upcoming festival; in the Comedy category as well as Best Director (Fiction) for Brylowski, who also produced the film and acted as the director of photography.

The short film will premiere May 23 at the Yorkton Film Festival.
(PHOTO: Filmmaker James Brylowski prepares to don his two-person donkey costume during a photo-op May 19, 2014. SooToday.com/Kenneth Armstrong)