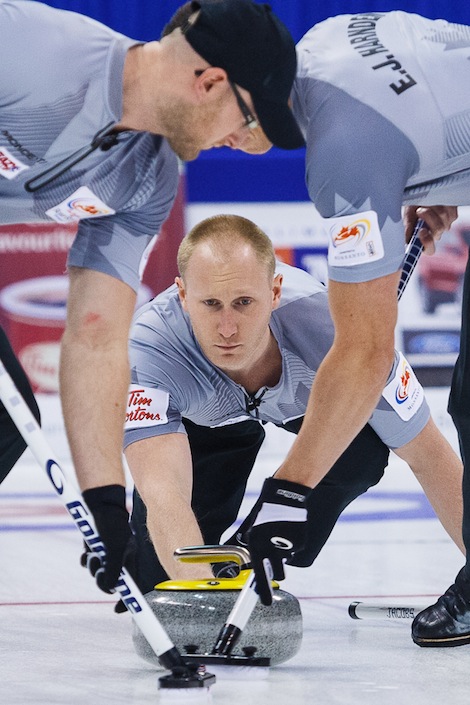 Brad Jacobs and his Canadian teammates are semi-final bound at the 2014 Winter Olympic Games in Sochi, Russia.
Jacobs wrapped up the round robin with a pair of wins on Sunday, including a 9-8 extra end win over China in the final men's curling draw of the day. Earlier Sunday, Jacobs defeated American John Shuster 8-6.
Against China, Jacobs needed a draw to the button with China in position to score a pair if he couldn't. Jacobs was right on the mark for the victory.
Jacobs missed a pair of takout attempts in the tenth end that would have sealed the win earlier. Instead, China turned a draw into a tie, sending the game to the extra end.
Canada could face China again in the semi-final depending on the outcome of the Chinese game against Great Britain on Monday. China could finish in fourth, depending on the outcome. Great Britain needs a win over China or a loss by Norway to advance to the semi-final.
In other games in Sunday's final draw of the day, Norway improved to 5-3 with a 5-3 win over Switzerland. Denmark beat Germany 6-3 and Sweden improved to 8-1 with a 6-4 win over Team USA.
The final draw on the men's side on Monday sees four games. China faces Great Britain, Russia faces Germany, Switzerland meets Team USA and Denmark plays Norway,
Full Jacobs Schedule
Feb. 10 vs. Germany (W 11-8); vs. Switzerland (L 5-4)
Feb. 11 vs. Sweden (L 7-6)
Feb. 12 vs. Russia (W 7-4)
Feb. 13 vs. Denmark (W 7-6)
Feb. 14 vs. Norway (W 10-4)
Feb. 15 vs. Great Britain (W 7-5)
Feb. 16 vs. USA (W 8-6); vs China (W 9-8)
Feb. 19 Semi-Final (10 a.m. ET)
Feb. 21 Bronze Medal Game (3:30 a.m. ET); Gold Medal Game (8:30 a.m. ET)
Standings
Sweden (Niklas Edin): 8-1
Canada (Brad Jacobs): 7-2
China (Rui Liu): 6-2
Great Britain (David Murdoch): 5-3
Norway (Thomas Ulsrud): 5-3
Denmark (Rasmus Stjerne): 3-5
United States (John Shuster): 2-6
Switzerland (Sven Michel): 2-6
Russia (Andrey Drozdov): 2-6
Germany (John Jahr): 1-7