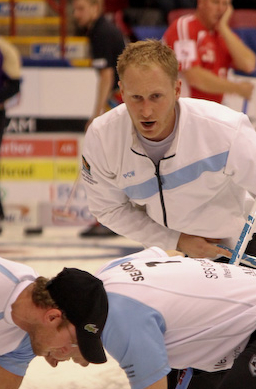 Sault Ste. Marie's Brad Jacobs will be a part of the playoff round at the 2013 Men's World Curling Championships in Victoria, BC.
Despite a pair of losses on Thursday, Jacobs advances to the 3vs.4 Page playoff against Denamark's Rasmus Stjrnke, scheduled for Saturday.
The Jacobs rink - with third Ryan Fry, second E.J. Harnden and lead Ryan Harnden - dropped to 7-3 after opening the day with a 5-3 loss to Denmark, leaving the Canadian entry in second heading into the final draw of the round robin.

Jacobs entered Thursday nights draw against Sweden's Niklas Edin needing a win to clinch a spot in the 1vs2 page playoff but instead dropped an 11-7 decision. With the win, the Edin rink moved into second place, ahead of the Canadians, where they will now face Scotland's David Murdoch in the 1vs2 page playoff on Friday.
A Canadian win over Sweden would have forced a tiebreaker scenario that would have found five teams at 6-5.
Final Round Robin Standings
Scotland (David Murdoch): 8-3
Sweden (Niklas Edin): 7-4
Denmark (Rasmus Stjerne): 7-4
Canada (Brad Jacobs): 7-4
China (Rui Liu): 6-5
Norway (Thomas Ulsrud): 6-5
Switzerland (Sven Michel): 6-5
Czech Republic (Jiri Snitil): 6-5
United States (Bradty Clark): 5-6
Russia (Andrey Drozdov): 3-8
Japan (Yasuke Mrozumi): 3-8
Finland (Aku Kauste): 2-9