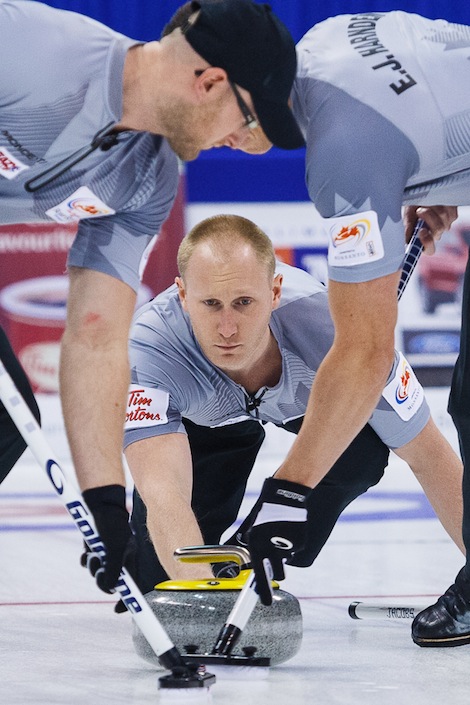 With another victory, Brad Jacobs is right in the thick of things in men's curling at the 2014 Winter Olympics in Sochi, Russia.
With a 7-6 win over Denmark on Thursday morning the Jacobs rink improved to 3-2 and took over sole possession of fifth in the standings.
With the game tied at six, Jacobs would make a draw to score one and give Canada the win. The shot came after Denmark would score a pair in the ninth end thanks to a takeout by Denmark skip Rasmus Stjerne to tie the game at six.
Jacobs would fall behind 2-1 through three ends before scoring a pair in the fourth end and two more in the sixth end 5-4 lead. The teams would trade singles in the seventh and eighth ends.
In other men's action on Thursday, Great Britain improved to 4-1 with a 5-3 win over Team USA. Russia picked up their first win of the tournament by beating Switzerland 7-6 thanks to a steal of three in the tenth end. The other game saw Sweden improve to 4-1 by defeating Norway 5-4, handing the Norwegians their first loss of the tournament.
On the women's side, Team Canada, skipped by Jennifer Jones, beat Denmark 8-5 in the early draw to improve to 4-0 heading into their fifth game, against Switzerland. Jones then improved to 5-0 with an 8-5 win over the Swiss.
Full Jacobs Schedule
Feb. 10 vs. Germany (W 11-8); vs. Switzerland (L 5-4)
Feb. 11 vs. Sweden (L 7-6)
Feb. 12 vs. Russia (W 7-4)
Feb. 13 vs. Denmark (W 7-6)
Feb. 14 vs. Norway (12 a.m. ET)
Feb. 15 vs. Great Britain (5 a.m. ET)
Feb. 16 vs. USA (12 a.m. ET); vs China (10 a.m. ET)
Feb. 19 Semi-Final (10 a.m. ET)
Feb. 21 Bronze Medal Game (3:30 a.m. ET); Gold Medal Game (8:30 a.m. ET)
Standings
China (Rui Liu): 4-0
Sweden (Niklas Edin): 4-1
Great Britain (David Murdoch): 4-1
Norway (Thomas Ulsrud): 3-1
Canada (Brad Jacobs): 3-2
Denmark (Rasmus Stjerne): 2-3
United States (John Shuster): 1-3
Switzerland (Sven Michel): 1-4
Russia (Andrey Drozdov): 1-4
Germany (John Jahr): 0-4