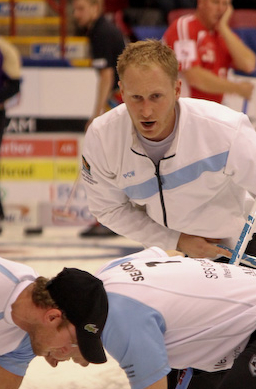 Sault Ste. Marie's Brad Jacobs and his team has officially transformed from Team Northern Ontario to Team Canada.
The Jacobs rink – which features third Ryan Fry, second E.J. Harnden, lead Ryan Harnden and alternate Matt Dumontelle – opened the Ford World Men's Championship in Victoria, B.C. on Saturday with a 7-6 win over China's Rui Liu.
"It feels real good to come out with a win in our first game, against a good team, too," Jacobs told the Canadian Curling Association website. "We curled really well. We made all the shots we had to make, we got some misses out of China and we capitalized on the misses. That's curling. That's what you have to do."
The Canadian team curled 94 per cent as a group in the win.
"It was definitely everything I hoped it would be," Jacobs told the Canadian Press. "We were on sheet A and the whole side of sheet A was pretty much packed (with fans). When we walked out before the game, the fans cheered. And every shot, they were cheering us throughout the game. Even though you're into the game, you still hear what people say. You still hear what they yell at you, and it's nice to have those words of encouragement."
At 27-years-old, Jacobs is the youngest Canadian skip to compete at the Worlds since Kevin Martin of Edmonton did so at 24 in 1991.
Jacobs is looking to win Canada's fourth straight title at the event.
Other action in draw one at the tournament saw Sweden's Niklas Edi score four in the ninth end in a 7-6 win over Finland's Aku Kauste; Jiri Snitil of the Czech Republic scored three in the ninth and a steal of one in the tenth end to beat Thomas Ulsrud of Norway; Sven Michel of Switzerland picked up a 6-4 win over Russia's Andrey Drozdov.
Team Canada returns to action on Sunday against Finland at noon (eastern time).
For more SooToday.com sports headlines, click here.