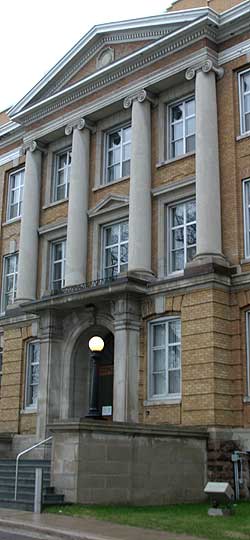 The lawyer representing a local woman who pleaded guilty to embezzling $391,000 from Algoma University to feed a gambling addiction has new information he wants the court to consider before his client is sentenced.
Ontario Court Justice Melanie Dunn is scheduled to give her sentence decision for Cynthia Jacobs this morning.
Jacobs' lawyer, Don Orazietti, told an Ontario Court Justice on Monday that the information he recently received could benefit his client.
The request from Orazietti was put over until today's sentencing, when both Dunn and the assistant Crown attorney in the case, Dana Peterson, are present.
It is not clear now if the information Orazietti wants to submit will be accepted, or if it could result in a delay in Jacobs' sentencing.
On April 14, both Orazietti and Peterson presented their final submissions prior to sentencing.
The prosecution had demanded an 18-month sentence of incarceration for Jacobs, followed by three years probation and full restitution of the stolen money, as a general deterrent and denunciation of the illegal theft.
Peterson told the court then, "I take no pleasure in saying Ms. Jacobs should go to jail, but this isn't about pleasure. It is not illegal to have a gambling addiction. But it is not legal to steal to fuel that addiction."
Orazietti had countered that a conditional sentence and continued counseling for Jacobs' gambling problem would better serve justice.
Orazietti had argued that his client did not deserve jail time for a number of reasons, but focused on what he described as "exceptional" mitigating factors for the embezzlement that occurred over six-years beginning in 2006.
Since 2002, there have been four major fraud cases related to gambling problems locally totaling $910,000.
In two of those cases conditional sentences were given, while in the third a jail term of 16 months was handed down.
*************************
Additional SooToday.com coverage of this story:
Crown argues Cynthia Jacobs should be jailed
Algoma U. responds to fraud charges laid against former employee
*************************
Editor's note: Comments on the above article have been disabled due to persistent inappropriate postings. SooToday.com's View Room is available for general discussions. Please read our Terms of Service before commenting on any comment section of SooToday.com.