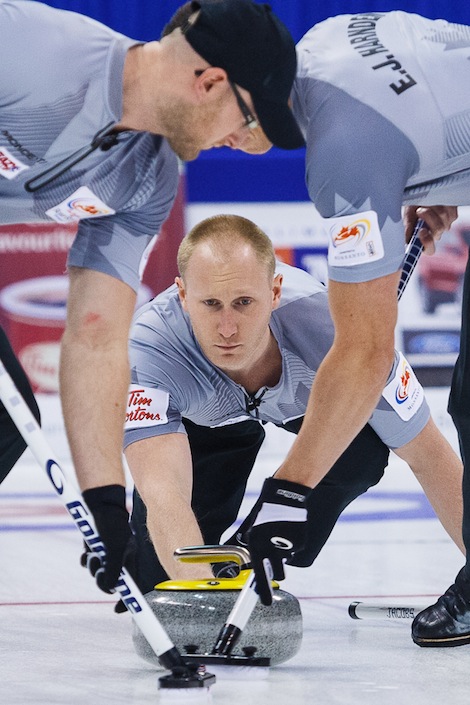 After a slow start, Brad Jacobs and his Canadian teammates are starting to roll.
Jacobs, with teammates third Ryan Fry. second E.J. Harnden and lead Ryan Harnden, picked up a 10-4 victory over Team Norway, skipped by Thomas Ulsrud early Friday morning. With the win, the Jacobs rink has now won three-straight after starting the Olympics with a win over Germany followed by a pair of losses.
The game was close early on with the two teams trading points before Jacobs wold take a 7-3 lead by scoring four in the seventh end, then sealing the win with three more in the ninth end.
The win moves Jacobs and his Canadian rink into fourth in the standings, one spot behind Great Britain and China, who are both 4-1 and teams Canada has yet to play.
Jacobs will face David Murdoch's Great Britain rink on Saturday morning in a 5 a.m. ET start before facing Team USA and China on the final day of the round robin.
Friday morning saw just two other men's games. Sweden needed an extra end to beat China 6-5, dropping China to 4-1 in the process. The other game saw Team USA score four in two different ends to beat Germany 8-5. The Germans remain winless in the event.
Friday's evening draw features Great Britain facing Denmark, Russia meeting USA, Norway back in action against China and Germany taking on Switzerland.
On the women's side, Canada's Jennifer Jones had a day off on Friday before facing Team Japan and the host-Russian team in two games on Saturday.
Full Jacobs Schedule
Feb. 10 vs. Germany (W 11-8); vs. Switzerland (L 5-4)
Feb. 11 vs. Sweden (L 7-6)
Feb. 12 vs. Russia (W 7-4)
Feb. 13 vs. Denmark (W 7-6)
Feb. 14 vs. Norway (W 10-4)
Feb. 15 vs. Great Britain (5 a.m. ET)
Feb. 16 vs. USA (12 a.m. ET); vs China (10 a.m. ET)
Feb. 19 Semi-Final (10 a.m. ET)
Feb. 21 Bronze Medal Game (3:30 a.m. ET); Gold Medal Game (8:30 a.m. ET)
Standings
Sweden (Niklas Edin): 5-1
China (Rui Liu): 4-1
Great Britain (David Murdoch): 4-1
Canada (Brad Jacobs): 4-2
Norway (Thomas Ulsrud): 3-2
Denmark (Rasmus Stjerne): 2-3
United States (John Shuster): 2-3
Switzerland (Sven Michel): 1-4
Russia (Andrey Drozdov): 1-4
Germany (John Jahr): 0-5